A number of Nashvillians hit relative low points in "Never No More." But with help from others, or on their own doing, each found a way to pull themselves back up by the end of the hour.
Deacon Claybourne, whose self-destructive behavior has found him miserable following the accident, has also realized the hand injury he suffered in the car accident may hurt his chances of ever playing guitar again.
Since he can do nothing but feel sorry for himself, Deacon's first reaction is to cast up his hand, sell all of his guitars and never even think about being the man he has been ever again.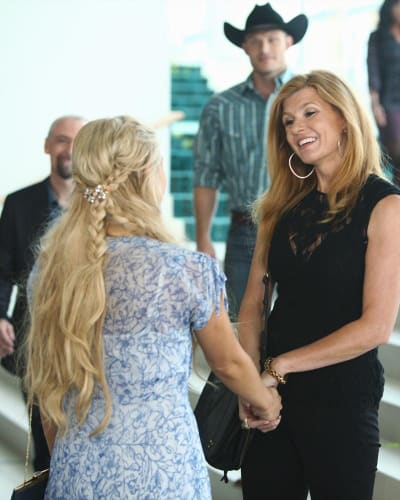 Luckily for him - and us - Scarlett talks some sense into her uncle, screaming at him to "MAN UP!" That, of course, leads to Deacon taking a saw to his cast in hopes of saving his hand in physical therapy. It's a route the character had to take if he ever wanted to do the thing that he loves most again, and I sure am glad that he did.
Rayna's relative bottom, meanwhile, was not nearly as emotionally troubling as Deacon's, but it was a problem nonetheless. With the new head of Edgehill Records (played but the wonderfully charming Oliver Hudson of Rules of Engagement) attempting to steal one of her two artists, Rayna first goes into defensive mode.
She gives Will her speech about how she wants to have him so that she can develop him as an artist, but once Will convinces himself that he's not an artist - but rather just a guy who is good at singing other people's songs - he decides to go to the Big Show and sign straight to Edgehill.
That whole issue, combined with Jeff's newest artist being a reality show runner-up who is just as bubblegum and glittery as Juliette Barnes was when this all started, got Rayna James a-thinking. In the episode's final moments, it became clear she was seriously thinking of leaving the record company that she helped build.
If her new adventure is to take Highway 65 on its own, and build it from nothing, that is something I would love to watch.
Juliette also had issues with the new head of Edgehill. Jeff, like many others around Ms. Barnes, doesn't like the fact that she has left her teeny bopper ways. The tween fans haven't followed her and her new, mature sound, so he's not giving her the attention she expects.
With her record underperforming, she organized a TV special about her childhood and made a trip home to small town Alabama. After meeting emotional old neighbors, and talking about her dead father, Juliette's single finally hit number-one on the iTunes charts.
Unfortunately, Jeff's newest artist overtook that number one spot later that night. What will Jules do from here? Continue to fight at Edgehill? Or maybe she will work with someone who is proud to have artists who want to develop? Say a little start-up known as Highway 65? THAT would be awesome.
Finally we have Gunnar. After suffering through his terrible attempts to make his lyrics rhyme with beer, we eventually got to watch him perform a fantastic song at the Blue Bird. 
Scarlett's friend, Zoey, was the one who got Gunnar's creative juices flowing again. Throwing Gunnar's brother's name into the mix for song ideas was exactly what the kid needed to come up with another great track. Like Will said, it's pretty amazing that Gunnar could bang that out in an afternoon.
A packed hour, "Never No More" also dealt with Maddie and Daphne struggling to handle family issues, Rayna and Teddy trying to figure out what to do next and Avery attempting to see where he fits in Juliette's life as she dragged him from event to event.
It was a very good second hour to Nashville Season 2. What did you all think of the episode? What were your favorite moments? Was there any story you could have done without? And are you going to watch the next season of American Hitmaker?
Dan Forcella is a TV Fanatic Staff Writer. Follow him on Twitter.