Whether it was Juliette and Avery's adventure to Maryland, everything surrounding the Edgehill party or Deacon coming around to deal with some of his issues, just allowing the audience to feel like we are a part of these characters' lives is something Nashville did well once again in "I Don't Wanna Talk About It Now."
I can't get enough Juliette Barnes, and when paired with Avery Barkley, it makes for captivating scenes. Hayden Panettiere and Jonathan Jackson have proven to have quite the chemistry over the course of the last half-dozen episodes or so - and that was quite evident yet again this week.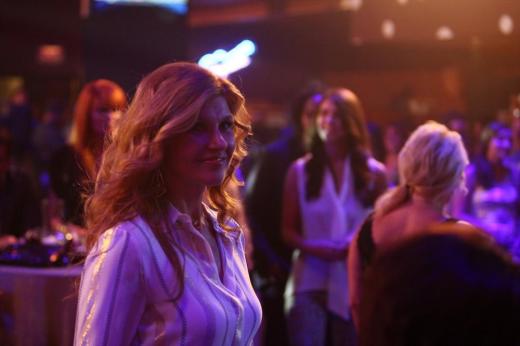 Their joy in rehashing memories of being dirt poor, him freaking out to her about how cool it was to tune Hank Sr.'s guitar and without a doubt the blow up they had when she dismissed him as just part of the payroll were some of the best moments of the hour.
We all knew it was coming after we saw the look on Avery's face when she said those terrible words, "He's just on the payroll."
That didn't prepare me, however, for just how electric the fight ended up. He's absolutely right that she doesn't let anyone get attached, but he's known that. Shouldn't he have expected this? Or had they built such a good friendship that he thought he broke down that wall?
His words yelling hit me hard. They hit Juliette in a different fashion, though, as after a few too many drinks, she made a ginormous mistake. Really, Juliette? The married dude that you're getting paid to play for?
As I said, I can't get enough Juliette Barnes, which is why when she makes these so very Juliette mistakes, I get that much angrier. Why does she do this to herself?!?!
Before moving on to all of the events that surrounded the Edgehill party, can we take a moment to recognize 1) how great Scarlett looked in that dress, and 2) how awesome her interaction with Gunnar was because of it?
Gunnar: I had no idea you could look that good.
Scarlett: Was that supposed to be a compliment?
Gunnar: It was supposed to be, yeah.
As a couple early on these two were kind of annoying. Recently they've been an absolute joy apart. Scarlett has become very funny with her sarcastic comments, asking Will where the bachelorette party was in reference to his stripper-esque outfit being my favorite line of the night. And Gunnar, meanwhile, has just been amazing to watch as an extremely talented individual.
His distress has been tough to handle given how great we know he is, not only at writing but at performing. Seriously, I'd watch him practice that song in his living room over Will doing it on stage 10 times out of 10.
It wasn't quite a shocker - because we knew she wasn't going to sing - but Rayna giving a big eff you to Jeff by not singing at the party was quite the moment. If she weren't planning on leaving Edgehill, she'd likely be out the door after that stunt.
The bigger question that arose over the hour, though, was how bad are her vocals? Is this it for her? Or will her next plot be about how she trains herself to be able to sing again? I'm not sure how enjoyable that would be. I think I'd prefer to watch her develop more young talent for Highway 65.
Finally, there was our boy Deacon, who continued to struggle with both his hand and his more serious issues. With the former, he finally went to get it check out, thankfully. With the latter, Coleman - in what I'm assuming was hi last hoorah - convinced him to talk about his issues with his father.
Watching Deacon talk through all of the terrible things his dad did, and seeing him realize that he turned out nearly just like him, was enthralling. Coming to the conclusion that he wasn't EXACTLY like him was exactly the glimmer of hope that this broken man needed. Hopefully Deacon gets out of this funk soon, so he can move on to bigger and better things in his life.
Oh yeah, Teddy was also dealing with Peggy and their baby during the hour. You can take the politics out of Nashville, but apparently that doesn't mean that the Teddy arc is going to be any less boring.
What did you all think of "I Don't Wanna Talk About it Now?" What were your favorite moments? What didn't you like? Who looked the best at the Edgehill party? And out of all that great music, what was your favorite performance?
Dan Forcella is a TV Fanatic Staff Writer. Follow him on Twitter.