NCIS: Los Angeles Review: Death by Chair, Fright or Hack?

Carla Day at . Updated at . Comments
Which most likely leads to death: A hacked phone? Sitting in a chair? Or being scared?
While none of them appear on the surface to be killers, according to this week's NCIS: Los Angeles. all three could lead be fatal.
On "Big Brother," a hacked phone was proven to be the most likely. Two team members were killed in a raid that went wrong and a teacher committed suicide all because phones were hacked.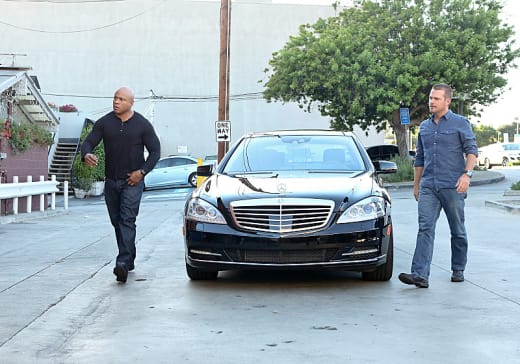 After the opening ambush in NCIS: Los Angeles Season 5 Episode 6, I never would have guessed where the hour was going. It went from looking like a fairly standard case of a mole to something much worse and more complicated. And, the addition of the hacker being a teenage girl added a bit of humor to the otherwise serious situation.
Cindy Chang's a computer genius, but she's also a teenager and acted as such. She used her computer prowess to spy on her classmates with absolutely no reason to think she'd be responsible for anyone being even being hurt let alone killed.
Cindy hacked the "mean girls" at school to find out what they were saying about her, which provided a gateway to their parents' phone and computer data as well. When Matt infiltrated her phone, he gained access to information that he used for nefarious reasons and people died.
The case went in unexpected directions which maintained my interest. Usually, I prefer the character interactions and personal growth in an episode, but that was kept to a minimum. There wasn't any mention of Deeks' issues or either of the potential romantic relationships.
The case was the driving force of the hour and provided for plenty of humorous situations. Though, I'm not sure why Kensi dropped out of going undercover as a substitute teacher at the last moment. It seemed out of character for her to quit and give up like that. If she didn't want to do it, she should have stood her ground and refused from the start.
In the end, it did provide the hilarious "Mr. Valerie Bellridge" moment for Callen, so it all worked out. He kept such a straight face when the student asked him about it. And, then the young girl replying, "That is so cool." Callen had an admirer! Too bad she's too young for him.
After Nell's adventure in the field, Eric got to take the technical lead in this case. He showcased his own computer abilities and even Callen acknowledge how smart he is. Eric doesn't get enough credit for the intel he provides to the team or his computer skills. And, just like Callen, he was hit on by a teenager. Again, too bad she's too young for him!
Overall, this was an enjoyable episode with plenty of highlights.
A few of the funniest moments:
Deeks and his Walking Workstation. Sitting kills you! "Death by chair." "Suicide by sitting." "Chairs - silent killers."
Deeks referring to his teammates as puppies.
Callen's neighbor is blogging about him? Ha!
When Cindy is brought in for questioning, she believes they are threatening prison for her kneeing Deeks.

Just for kicking blondie in the gonads? That was self-defense."

Cindy Chang

Sam's dismay at the antics of a teenage girl. Bowling and frozen yogurt!

I know dying of fright is a real thing. Blah blah blah.

Nell

"Is it the guy you said was smarter than you?"
What was the funniest moment? Did you enjoy an episode that focused more on the case than on relationships and personal issues?
Carla Day is a staff writer for TV Fanatic. Follow her on Twitter and on Google+.