NCIS Round Table: "Past, Present & Future"
Steve Marsi at .
Our NCIS review broke down "Past, Present and Future," this week's emotional episode, in detail.
Now, TV Fanatic staff members Steve Marsi, Douglas Wolfe and Christine Orlando have assembled for our weekly Round Table Q&A discussion of various events and topics from the installment.
Join in as we analyze the farewell to Ziva David and more from this hour of TV's #1 show!
----------------------------------
1. How would you describe this week in one word (or two, or three, or four)?

Doug: Ziva says goodbye.
Christine: Not nearly enough.
Steve: Time to move forward.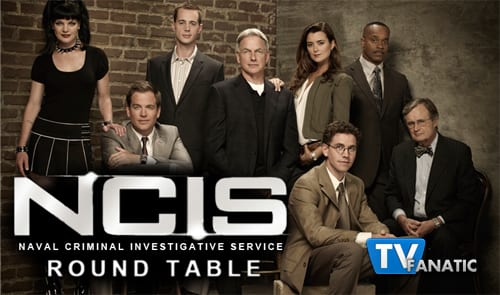 2. What was your favorite quote or scene from the episode?

Doug: Hands down, for me it was the scene at the airport. I'm a romantic softie at heart, so seeing that bittersweet moment between Ziva and Tony resonated. As some of our fellow fans have noted - Cote's emotions were quite real, and there's a possibility she was also feeling the fact that this was her last scene with Michael Weatherly. She's always been a great actor though, and this isn't the first time she's expressed strong believable emotion.
Christine: Ziva: "Tony. You are so..." Tony: "Handsome? Funny? What?" Ziva: "Loved." Because that looks like the best Tiva fans are ever going to get. It was both beautiful and yet highly disappointing. 
Steve: Besides the obvious? Tony making his own "I will" list, which I thought was a nice writing touch and something I hope he circles back to, even if it's years down the line. What do you think he wrote on it? I also liked how the final frame was Ziva calling Gibbs. I'm so glad she did, as it was the right thing to do.
3. Was the conclusion to last May's cliffhanger satisfying?
Doug: Kind of. Which is to say, not really. I'd like to know what the writers originally had in mind before Cote announced her departure - I'm guessing what they had was more nuanced and probably flowed a lot better, probably over a greater span of time. The two episodes, though very well crafted and put together, were jam-packed with details. We had an explanation for Gibbs with the rifle, and we got our retired NCIS team back in the saddle. The Cote/Ziva thing though... I think that really threw them for a loop, and despite their excellent writing skills, it showed. The silver lining for me was all of the action. We saw a lot more in those two episodes than we're using to seeing throughout the season. I hope this is something the writers keep going. I mean they have enough fodder, don't they: Parsa and his murderous terrorist group are still out there. Maybe this season won't entirely be a "case of the week" deal.
Christine: Eh. To be honest I was more focused on Tony and Ziva but yes. I was happy to finally find out why Gibbs shot Fornell. I really love it when these two work together. The reasons behind it all for extraneous for me.
Steve: Gary Glasberg's hands were really tied on this one. Without a doubt he had no intention of writing Ziva off the show when he came up with the already complex arc involving Parsons and the agents' resignation. He and his team did a nice job with what they had to work with ... but I would love to know how he originally conceptualized these two weeks before the Cote de Pablo bombshell.
4. Biggest unanswered question from the episode(s)?
Doug: I want to know McGee's story with Delilah. Everything. I trust Tony to pull it out of him.
Christine: I'm very curious to see what Tony writes on his list after "I will..." I really hope the writers pick this up at some point this season.
Steve: Christine nailed it. I'd pick something else just to be different but that's the one that jumps out at me most of all.
5. Tony and Ziva's moment: Discuss.
Doug: This felt like Tony's only real moment in the sun, that scene. Up until now, he's been known to be a bit of a ladies' man, never really serious and playing the field. This pursuit of Ziva and moment at the airport saw him opening up in an honest and vulnerable way, especially as we saw him make his own "I will" list on the airplane afterward. It was unsatisfying to see them split like that, and it makes me wonder what the writers will do with him now. He could become closed up, or he could start partying hard, just to try and get over her. Who knows.
Christine: It was beautiful and sweet and heartfelt and not nearly enough. I've spent too many seasons watching this show with the hope of a Tiva romance to be happy with how it ended. They teased viewers for far too long and then time ran out. They did the best with what they had and I appreciate it but it wasn't enough to leave me happy.
Steve: Terrific acting by Cote and Michael Weatherly this week. Bittersweet, considering the circumstances that surrounded the making of this "moment," but terrific just the same. Knowing the actress would be leaving, NCIS at least gave fans some closure with the will-they-or-won't-they couple in a way that also kept the door ajar for her possible return down the line. Beyond wishing she simply weren't leaving the series, I don't know what more we could expect, although I welcome alternate endings/resolutions in the comments.
6. What did you think of the way she left the team, and show?
Doug: At first I was appalled but as we read about the reactions from the various people connected to the show, I get the sense that her reasons were valid, and had nothing to do with any part of the creative aspects of the show. It wasn't about money, or her fellow actors or any of that. I suspect there's a medical component to all of this, but have heard no rumors to support that - it's just a guess. If so, though, it would explain her desire to keep her reasons to herself, and the willingness of the cast and crew to respect that.
Christine: I understood her reasons. If she truly wanted to get away from the violence of this life then that would mean walking away from the team... and Tony. If she were to remain in contact she would eventually get pulled back in. It made perfect sense and was very well written and acted. That doesn't mean I'm still not disappointed.
Steve: See previous answer. Business and personal aspects aside, the show did the best that it could.
7. How will it impact the team, and show, going forward?
Doug: Though disappointing, I think her departure opens up all kinds of new possibilities for the writers. The dynamic between her and Tony had been building for such a long time - and now the writers don't have to keep working their teases into the backstory of each episode. I'm hoping that her leaving allows them to make Tony a little more like the serious and compelling guy he became - which we saw in the "Shiva" episode and again during these first two episodes of this season. And now I'm really curious as to the choices they make when they pick someone to replace Cote/Ziva. They're under pressure to make that person very interesting. My hope is that they don't land on Murray, the new IT guy - he doesn't fit the bill.
Christine: I really hope they allow Tony to grow and move forward. I'd hate it if they had him go back to womanizing or had him be as closed up as Gibbs. Tony's a great character who deserves to find some happiness and I hope that happens at some point in the future. If nothing else, having him backslide just seems too predictable and boring. I want to see something new.
Steve: As Doug points out, and Mark Harmon said in an interview before the season, this is NCIS' chance to make the most of a situation, even if they didn't choose it, from a creative standpoint. From potential new characters to fill the void to different ways of using those that remain, it's going to be a challenge, but this show is #1 for a reason. Don't assume the writers and actors won't rise to the occasion.
What's your take on these issues of the week on NCIS? Discuss below!
Steve Marsi is the Managing Editor of TV Fanatic. Follow him on Google+ or email him here.