Like many a fine comedy, New Girl deals in a heightened version of reality and human behavior.
In the past, I've seen shades of everything on this show from Friends to...well, fine, mostly Friends, and occasionally some other stuff, too. But "The Captain" reminded me of nothing so much as a lost episode of How I Met Your Mother.
Is this a good thing? Well, yes and no.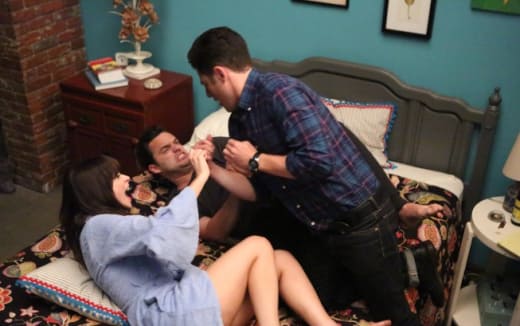 In the plus corner, Jess and Nick are a sloppier and more realistic pairing than ever walked through the doors of MacLaren's Pub, which makes them way more appealing to watch.
It's tough to keep a character grounded in some sense of realism when, for example, they're preparing to perform a degrading, nautically-themed sex act. But Zooey Deschanel and Jake Johnson have pulled off the rare trick of doing something cartoonishly absurd without getting cartoony themselves, anchoring their performance in still-relatable emotions and reactions.
The chemistry between Deschanel and Johnson does a lot of the heavy lifting in this particular department - their combustible romantic energy is unmatched in current network TV comedy, and, in fact, it can rescue the show when it sometimes spins out of control.
But I was disappointed to see Schmidt watered down to a dime-store Barney Stinson in this episode. Though there are plenty of parallels between those two characters - both men are soft-hearted comedic anti-heroes who only get into trouble because they're very insecure and also have very specific preferences about their suit tailoring, for example - but Max Greenfield's Schmidt is more of a sweetly wounded bird-cum-metrosexual doofus.
He's less compelling than usual here, where he seems to be trying on Stinson's scheming 'master of the universe' type personality. To see him getting the better of Jess and Nick as they each naively fell right into his trap (mere moments after discussing his desire to set a trap!), I did feel like I was watching a different kind of show, with his more typical Schmidt-style capering at the end mixing in oddly with the previous action. And Schmidt's love of Billy Zane in Titanic was even reminiscent of Barney's ongoing affection for The Karate Kid's William Zabka (yes, someone had to say it, okay?).
Schmidt, as he has been in the past, is one of New Girl's greatest strengths - if not the show's singular greatest strength - and though his descent into darkness this season has helped grow the character, it's also made him a little less focused. Where is "Big Guy" in all of this?
On the subplot front, I continue to adore the development and cultivation of Winston's personal weirdness, which, as he so ably pointed out in one of tonight's best New Girl quotes, still doesn't stop him from being the sanest person in the house. This season, Winston is finally beginning to come into his own, both as a person bizarre enough to be okay living in a house full of Jess's failed craft projects and Schmidt's failed erotic murals, and also as a person even-keeled enough to want nothing to do with the loft drama. It only took two entire seasons, but I finally feel like I understand what the hell he's doing there.
And finally, most importantly... what does "The Captain," with its spyglasses, dolphin sounds and bottomless shame, actually entail? I have no idea, but I hope we get a guide to it, a la New Girl Season 1's "True American," some time soon. Internet, you've helped me realize every other asinine idea I've had in my life; don't fail me now!
Can order possibly be restored in the loft? Are Schmidt and Cece ever going to find their way back together? What am I supposed to take away from the fact that Nick has a Jim Croce poster in his room??!