The realistic way in which emotional situations play out on Parenthood is one of the many reasons it's one of the best dramas on television.
And "All Aboard Who's Coming Aboard" featured more than its share of scenarios where slight shifts in character were perfectly written. 
There are often themes running throughout the episodes, and while it didn't necessarily fit all of the stories to a T this week, it felt as if many Bravermans were exhibiting a change of heart. Let's talk about it.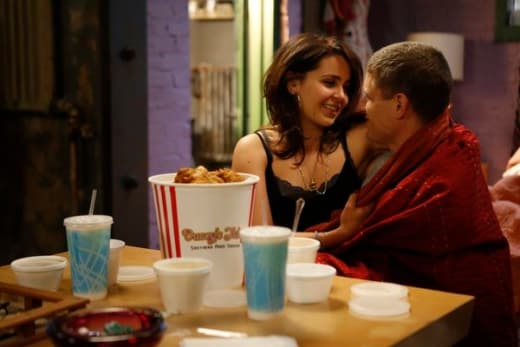 Kristina and her run for mayor
Seeing another familiar face from Jason Katims' powerhouse series Friday Night Lights is always welcome, and Jurnee Smollett-Bell burned up the screen as Heather Hall, Kristina's self-appointed campaign manager. Her introductory scene was brilliant and the way she took control of the situation proved she was a perfect fit for the job.
Heather: Alright. We've got some work to do, you're a little rusty, but that's what I want to see more of - more Kristina.
Kristina: I haven't really made my decision...
Heather: You know what? We've gotta, like, write an announcement speech, so I'm gonna get some coffee. You want anything?
Kristina: I.. sure. Are you hired?
Heather: I'm just gonna take the job, because you don't have time for more interviews. We have this announcement speech to write. | permalink
While Heather could have been brushed off as pushy, she was, in fact, very adept at her job and cared very much about Kristina and her chances at winning the mayoral race. While interviewing Adam for any dirty bits that might be uncovered during the race, she discovered he wasn't really on board with Kristina running in the first place.
That lead to a very touching moment between Adam and Kristina where the truth finally came out - he thought the stress of running for mayor would trigger a relapse with her cancer. He wasn't against her running on any moral or intellectual grounds, but merely out of love and safety for his wife. He didn't realize the true anxiety was driven by his lack of trust in her decision. He had a change of heart and was standing faithfully by her side later as she gave her first candidacy speech.
Julia on parental duty
Julia was on duty for the first day of school, and somehow got the equivalent of parents' detention when she helped out a fellow parent making both of their children late. While they were assigned the duty of being on The Green Team, the school's equivalent of Greenpeace, Julia and Ed bonded. It was fun watching them try to guide kids to "be green," especially when Ed singled out a kid eating potato chips and tried to tell him how bad the chips and the wrapper they came in were for him and the environment. 
It was interesting that Julia's first instinct, even after Ed told her he was unemployed, was to lie and tell him she was working from home and could set her own hours. She finally had a change of heart and told him the truth and he abruptly pretended that was a game changer. Instead, she made a friend. 
David Denman, as Ed, is also a nice addition to the cast. Julia was relaxed and had fun while mucking about with Ed, something she used to do with Joel. It wasn't really obvious to me how far apart the two of them had become until Julia and Ed were enjoying each other's company. It's obvious that as their friendship grows, what's missing with Joel will far more glaring.
Crosby and family
Getting used to Aida is still in progress, and the brunt of the change is resting on Jabbar. An older child always feels left out, but when the baby is as fussy as Aida, it's even worse. Jabbar can't watch TV or dribble his ball without getting yelled at. 
Jabbar: I thought babies were supposed to be fun.
Crosby: Yeah, they're not. | permalink
Crosby knew better than to mince words. Promising Jabbar a night out where he got to pick the fun seemed a logical choice, except they took Aida. Can somebody tell me why? I'm going to blame Jasmine. She was probably afraid to leave Aida with her grandparents or something. Taking the baby to a restaurant when they can't even walk around their own house without her screaming and crying was a really bad idea. 
Crosby's excellent parenting skills told him to take his boy to The Luncheonette for some man time, so they could eat crap food and rock out on some seriously loud instruments. Babies are not fun.
Camille and Zeek
I'm only going to touch on this briefly, because something has to happen to save the Braverman house. Camille suggested it might be too much work for them in the third act of their life and they should consider selling. So which set of kids will buy it? Camille and Zeek can move into the guest house and a full family can claim the main house - I don't care how it goes down - but that house is not leaving the family. 
Amber and Sarah make us cry
Amber and Ryan shared the news of their engagement with the family, and everyone but Sarah seemed pleased as punch. Of course Sarah was scared to death. If you look at what happened to her when she married young, and take into consideration the problems Ryan had after he came back from her first tour in Afghanistan, she had every right to be frightened. However, for a moment, Sarah's concerns about whether or not Ryan planned the engagement gave Amber cause to doubt her own judgment and feelings about the man she loved.
It was an excellent touch to bring back Hank as a concerned friend, because his input about their failed marriages and Adam's reminder about how she bolted when confronted by her own parents helped Sarah make the right decision to talk with Amber about whether or not she loved Ryan, and not just make assumptions based on her own past. In a night full of brilliant Parenthood quotes, this one made me spring a leak:
Sarah: With your permission, I would like to help give you the day that you pictured, that honors how you feel about Ryan and how I feel about you. So, we're going to look at these magazines...
Amber: Oh God, Mom...
Sarah:...For a long, long time. And we're gonna look at all the dresses. And, we, my friend, are gonna have an appletini.
Amber: Thank you so much.
Sarah: Let's plan your wedding. | permalink
From the initial look on Sarah's face at the news of the wedding to wanting to honor her daughter was the epitome of a full on Braverman change of heart. 
Carissa Pavlica is the managing editor and a staff writer and critic for TV Fanatic. She's a member of the Critic's Choice Association, enjoys mentoring writers, conversing with cats, and passionately discussing the nuances of television and film with anyone who will listen. Follow her on Twitter and email her here at TV Fanatic.