Person of Interest really has the unique capability of turning a simple case of the week into something more integral to the overall series.
It could easily be the find and save the person format, cut and dry. And yet it finds ways to open up the larger possibilities, themes, characters and stories at the same time.
"Mors Praematura" was another example of the show's ability to execute that fine line plan of serialized and procedural, allowing the characters to get involved (although, Fusco has felt more noticeably absent) and propelling multiple plots forward.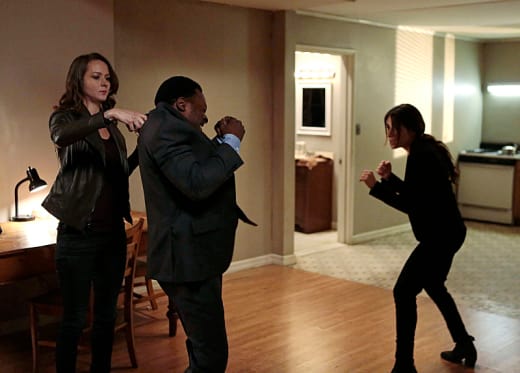 It is odd/interesting that the Machine would ultimately send two teams (Reese and Finch, Shaw and Root) into the same battle with different goals. Where Reese and Finch followed the regular task of saving the specific number, in this case, Tim Sloan, Root and Shaw were sent to rescue Tim's brother and send him off to safety.
What is the Machine's end game? The mysteriousness that surrounds this powerful technology combined with its "freedom" make it equally dangerous as it is helpful.
It is great to see Root as a character that follows the Machine's will so obediently, rather than question it. I wasn't quite prepared for her to team up with Shaw, but it was fun seeing Root provide all the info and watch Shaw use it to her advantage. But I'm still glad Shaw got to punch Root. That computer hacker is one crazy chick.
Root does think there's some bigger plan, but what if her faith in the Machine were shattered? Finch's remarks about Root perhaps being in the place where the Machine wanted her all along is an intriguing theory. But there's no way she'll stay in the cage reading books for long.
I'm glad that the privacy centered group, Vigilance, returned. They are like the anti-Wikileaks, and I'm curious as to how much damage they could do in starting their "revolution." Clearly, with someone like Collier, kidnapping and murder are only just part of their master plan.
And with real life so focused on a digital age where information can be collected by the government and there is spying and watching, it makes it the perfect group to rise up on this type of show.
It also makes me wonder about where and what the enigmatic international group, Decima (the one's trying to get to the Machine in "God Mode") are up to.
Additionally, Elias has to be up to something, right?
And that's the brilliant thing about this show, it's ability to create these variety of forces, enemies, etc., but at the same time hasn't allowed the series to get too muddled with everything.
While, I find the HR storyline to be a little tiring, it has created an interesting plot in Carter using her rookie partner Laskey as her inside man. It does remind me a bit of when Fusco used to work for HR and then for Reese. But with Laskey having to kill for HR, and at such an early start, I still have a bad feeling for his character.
But giving Carter something to do that doesn't have to be saving the person of interest is great evolution not only for her character but another story still connected to the series' universe.
Like usual, there was some entertaining action sequences, gun play, suspense and a little humor. The episode just gets on a roll and sucks you in.
Person of Interest Season 3 Episode 6 was a great follow up to last week's Person of Interest Season 3 Episode 5 and another positive sign that the season is continuing its upswing rise.
Sean McKenna was a TV Fanatic Staff Writer. He retired in May of 2017. Follow him on Twitter.