Klaus and Elijah (and Rebekah) fans rejoice!
After months of waiting, reading interviews and Twitter-stalking, The Originals premiere has arrived! Fans of the original family have been waiting for this since TVD producers aired a backdoor pilot in the hopes of scoring a spin-off. And now it's here - and it did not disappoint. 
Thanks to some witchy mischief that lured Klaus to New Orleans, The Originals are back home in the Big Easy. "Always and Forever" was a retelling of the plot of The Originals" from The Vampire Diaries season 4 from Elijah's perspective. One hot vampire in a dapper suit, coming right up!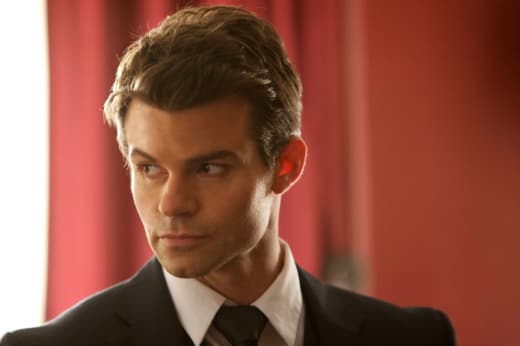 As a premiere when a pilot has already aired, "Always and Forever" was definitely interesting. 
After watching a screener, I rewatched the pilot (Thanks, Netflix!), and then watched the screener again, just to see how it all fell together. Instead of picking up where the pilot left off, which would've created a weird time-warp between the two shows, or going forward with a time jump, Julie Plec and company opted instead to retell the story behind Klaus and his siblings taking up residence in New Orleans from Elijah's perspective and used him to fill in the episode with Original history along the way.
The result? I'm quite sated in my Elijah thirst, which is good since Klaus is Klaus and has daggered his older brother. AGAIN.
While it's clear that the story in New Orleans focuses on Klaus and his werewolf baby and his desire to rule the city again, and the witches with their witching, Elijah's reasons for being there are equally as compelling.
In short, Elijah wants a family. His family. 
Elijah, ever a man of honor, is a bit of a dreamer. He's a hopeless romantic. He also feels a debt to Klaus which apparently no amount of being kicked around or time spent daggered in a coffin can repay.
He believes that New Orleans and Hayley's baby will bring their family healing. He believes it will help Klaus hang on to whatever shred of humanity might still be lurking in the recesses of the hybrid's dark heart. He's loyal to his siblings as we've seen time and time again. When it comes to choosing between one of his own and anyone else, Elijah will choose family. 
Because of that aspect of the character, this was a terrific transition from a series with the originals as supporting cast members to a series centered around their family dysfunction.
There's a redemption arc to play out, if this family can be redeemed, and it's the kind of redemption that the characters, namely Klaus, aren't looking for. Klaus is an anti-hero. He makes rash decisions. He hurts people. And underneath it all is a damaged man seeking to make a connection and being terrified of letting people into his inner circle.
Elijah seeks redemption for allowing their father to torment Klaus. Rebekah will probably want redemption for something, too, if she can ever get out of the bathtub long enough to go looking for it.
But this isn't just a show about the original family's redemption. There's plenty of conflict to go around. 
Marcel makes an excellent villain. A sexy, witch-controlling villain. He's clearly evil, but there's something alluring about him. And he can throw down a ranty monologue with the best of them.
Speaking of the witches, Sophie Devereaux and her coven aren't Mystic Falls, hanging out on the other side waiting to be useful witches.
Marcel uses Davina to oppress them and they don't like it. It's not quite clear whether they know she's their secret weapon or not, but what is clear is that they have a vendetta against him and that alone makes them more than just plot devices.
There are vampires, witches, and werewolves, but The Originals is NOT The Vampire Diaries. Plec has stated in interviews that because of the age of these vampires, this is an older show, and it's clear from the premiere that this is true. It's darker. Edgier. Even the camera work is different. 
The Originals might be a spin-off, but it could just as easily have been the original vampire show on the CW for all of the differences between the two. There's a wealth of stories to be told about these new characters and I for one am excited to keep watching. 
What about you? After seeing the premiere, is this a must-see series for you? What do you think about The Originals? 
Miranda Wicker is a Staff Writer for TV Fanatic. Follow her on Twitter.