The second part of Almost Human's two-night premiere is in the books and I remain hopefully optimistic that it's here to stay for a while.
The science fiction is certainly interesting, but what has me hooked is the show's character-driven and compelling nature. Yes, Dorian has stolen my heart.
Almost Human Season 1 Episode 2 saw Kennex and Dorian's partnership evolving from the pilot while the investigated an illegal sexbot trafficking ring. 
Yep. Sexbots. Welcome to 2048.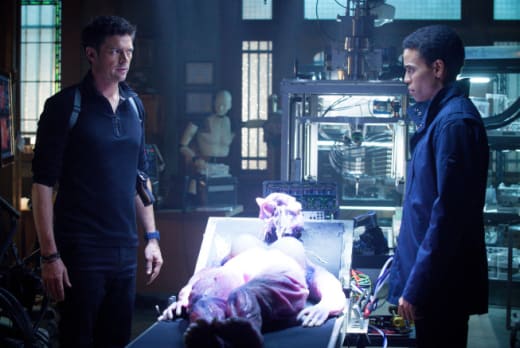 There's so much weird and crazy technology in this show that it's really stroking my Fringe-lust. DNA bombs, sexbots, skin-whatever-that-was and tiny giraffe robots!
It's the stuff sci-fi dreams are made of!
Dorian and John picked up the case of a man named Sebastian Jones, a sexbot developer, who was found murdered in a hotel room. Jones was painfully close to discovering his competitor's illegal secret but was taken out before he could gather the information he was seeking with his fiery and faux companion. 
Ultimately, the partners discover that a crew of Albanians have found a way to generate human skin onto their sexbots making theirs the most desired - and most illegal - companions on the market. Bots are not allowed to have human DNA, so after solving the case, the illegal sexbots have to be destroyed, which seems to hurt Dorian, who struggles with the concept of birth and childhood.
Dorian wasn't born, and it's clear that he feels he's missed something by not having had a childhood. He seems sort of lost and unsure of his place in the world of humans because he's able to share and understand so many of their experiences but not those which are most basic. 
He's a robot with a soul. A programmed soul, but a soul nonetheless. He wants many of the same things that humans want. But does he want them because he's actualized or because he's programmed that way? This is a question I can see being answered as the series progresses. 
When it comes to his human interactions, Dorian envies the humans' connections to one another. He believes so strongly in their necessity for his humans that he creates an online dating profile for John and goes so far as to set him up. Then he pushes him toward Detective Stahl.
This Benedict Android is good for something!  
He's actually good for lots of things, but his connection-making capabilities rank way up there. 
Dorian wants to make those connections for himself, though, but knows that because he's a robot, that's impossible. But still, he tries.
When the sexbot has to be destroyed, he feels compelled to be there. As she wonders what will happen to her, Dorian says she will go to a better place, a platitude he learned from John. He seems to understand that it doesn't matter whether it's true. It only matters if the person being told believes it. His promise to remember her shows his yearning for humanity. 
He wants to be remembered. 
One of the aspects I most like about Almost Human only two episodes in is the idea that in many ways, Dorian is more human than John. He sees and understands the connectedness of mankind in a way that John either can't or doesn't want to. Dorian wants those things while John shrugs them off. 
There's a balance to their partnership that intrigues me, and I'll definitely be tuning in to see more of it.
What did you think of Almost Human Season 1 Episode 2? What's your favorite piece of tech so far? Do you love the relationship between Dorian and John? Check out the Almost Human quotes page and let's chat about the second episode in the comments!
Miranda Wicker was a Staff Writer for TV Fanatic. She retired in 2017. Follow her on Twitter.