Wow! There was so much information finally let loose on Beauty and the Beast Season 2 Episode 7, including some scenes between J.T. and Tess that paid off for those who have sat by waiting patiently.
For once, it's difficult to determine exactly what the highlight of the night was - and there was one hell of a cliffhanger to drag us into next week (even if the outcome of it isn't too difficult to determine).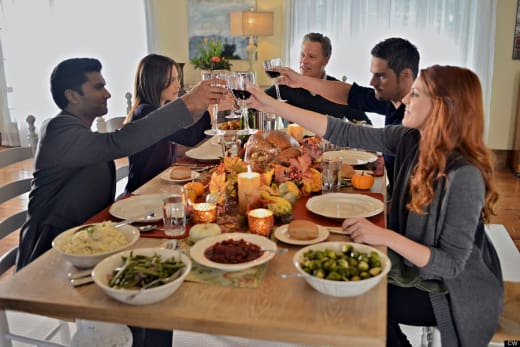 "Guess Who's Coming to Dinner" was probably my favorite Beauty and the Beast Season 2 episode. It had all of the elements I enjoy.
There was romance between Cat and Vincent, very funny moments as they tried to determine when and how to incorporate their code words about her father into casual conversation (they didn't), great beast scenes and Tess and J.T. finally had moments together that were better than I could have imagined.
I was glad that Vincent didn't hold onto his anger about everyone barging into his business with his handler for too long because he really needed the help. Before he even knew Gabe's theory that he was the last beast to be killed on his own hit list, he noticed in a pane of glass that his supposed last job was wired to blow before he entered.
He was still leery when he was told he was his own target.
By the time he got on the phone with his handler (and excuse me for calling his handler Condor all these weeks. Y'all should have knocked me upside the 'puter screen and told me VINCENT was Condor! Oops!) in an attempt to allow J.T. to capture his voice for decryption, he was so angry he threatened his life. 
I'm not exactly sure why Cat thought it might be a good idea to get her dad involved when they realized the FBI was the intermediary. Ordinarily she would have immediately thought the convergence of his reentrance into her life and Vincent's missions too coincidental, but she's blinded by her dad's recent death and the discovery of Bob. 
The scenes of Cat and Vincent torn between being a boyfriend and girlfriend and a beast and detective and how to work it all into the conversation with Bob were a lot of fun. The two of them trying to say pumpkin with no purpose whatsoever alerted Bob because - duh - he's not an idiot. I laughed out loud when Vincent choked on his non-pumpkin cookie saying it went down the wrong pipe. That was about the end of the good times.
Bob was pretty surprised to learn how many people his daughter had rallying around her. I think his response was genuine. To learn the former ADA was outing himself because of his commitment to his daughter stunned him. Unfortunately, Gabe brought along Tori and sparks flew between the beasts.
And the threat Vincent made against his intermediary earlier almost came true. 
Bob's veiled threats were ridiculous. I was rooting for Vincent to rip his throat out... or at least for Cat to pull her gun on the bastard and tell him to shut his trap. He doesn't know her or her friends, and to insinuate he has any clue what they are all about with so little information should have sent rockets off to the entire group.
Instead Cat stumbled upon a beastly moment of hormonal passion and thought Vincent could have stopped himself.
To think that he would be not be able to stop himself from holding an ax against her father's throat but he would be able to stop himself from kissing the first female beast he has come across (and likely a purebred - if such a thing exists), seems a stretch. Then she quoted her dad saying at some point enough is enough. Ouch!
Meanwhile, back at the "lair." Tess and J.T. were prepared to spend Thanksgiving separately, until this happened: 
Tess: It's just, I dread this holiday so much. It's the part where my family grills me about my single status and there are no gifts to offset the humiliation.
J.T.: Then don't go. Tell them you're working, which you are. We can boycott the holidays together.
Tess: Just you and me?
J.T.: And some beer and some pizza and some creepy guy's voice.
Tess: Can we start drinking now?
J.T.: Absolutely. This is going to be the best Thanksgiving ever! Non-Thanksgiving.
Their whole conversation was written for fans. Tess talked about being unfeminine and J.T. told her how he felt the first time he saw her and they eventually kissed. Kissed!! To relive the final moments of that saga, check out the Beauty and the Beast quotes section.
Suffice it to say that I've known it would work, and it did. It did and it will and the nobody need ever know thing? I disagree.
The ending of the hour was literal bells ringing - the indication that Vincent's handler/intermediary at the FBI was Bob, Cat's dad, to whom she had spilled everything and to whom she just let Vincent and Tori ride off toward in various ways. He was the man responsible for everything up until that point. 
Vincent was at Tori's, where he was standing on a tripwire. KABOOM! At least one beast will make it out alive. 
I know everybody is worried that Tori would come between Cat and Vincent and put a strain on their relationship, but outside of the animal instincts, I kind of liked her. The idea of a born beast who was female was intriguing. If she died in the blast, I'll be let down. Mostly because it's the easy way out and takes Vincent being forced to deal with his issues out of the equation and then because I liked her.
What did you think of this jam packed episode and about that little somethin' somethin' we got from Tess and J.T.? 
Carissa Pavlica is the managing editor and a staff writer for TV Fanatic. Follow her on Twitter.