Blue Bloods Review: Thankful for Bullet Proof Vests

Christine Orlando at . Updated at .
It was the Thanksgiving installment and Blue Bloods Season 4 Episode 9 mixed family, friends, humor and a good dog in a way that made me thankful for all of the above.
We'll start with Danny and Baez. Detective Baez ran into a familiar face on the job. Her brother, Javi. And when I say ran in to I mean she tackled him through a glass door.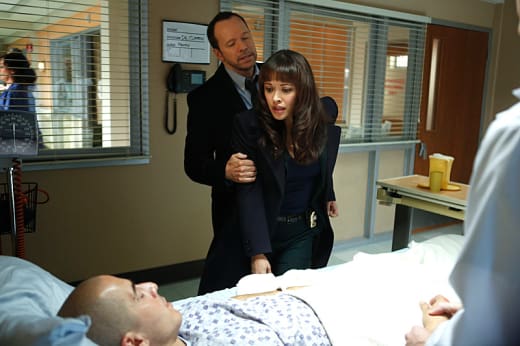 I suppose every family has its own way of saying hello.
But Baez had a long and unpleasant history with her drug addict brother and she wasn't so quick to believe he's gotten himself clean.  As she explained to Danny in this Blue Bloods quote…
Not everyone has a family where the worse thing that happens is that someone's late to Sunday dinner.

Baez
When Benny Russo and his thugs tossed Javi in that van and drove off, I had to wonder if Danny and his crew were doing their impersonation of the Keystone cops. It was an old van trying to get away from several police cars on city streets. How far ahead could it have gotten that they lost it?  It didn't seem it had that much of a head start.
Then there was Henry and his ex-partner Colleen.  I found it really sad that Colleen's daughter Mira would rather go to Henry with her concern that her mother had assisted in her father's death instead of confronting her mom.
Obviously she was right that the option had been seriously considered but I felt her disdain for her mother's computer searches was a little misplaced. Wouldn't anyone who a had a spouse battling cancer go over their life insurance policy?  That seemed more practical than suspicious. 
And no matter what Henry or Mira said, almost anyone who has witnessed a loved one suffer that kind of pain would at least consider ways to make it stop.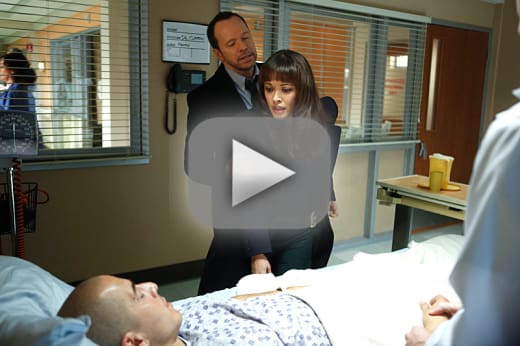 I though it was funny how even Frank admitted to having the hots for Colleen when he was a boy. Of course Henry did too and that's why he asked for a new partner, not because Colleen wasn't a good cop but because he valued his marriage too much to stay that close to temptation each day.
Finally we get to Frank and his past in the K-9 unit. It was more than a little heartbreaking to hear that he thought he couldn't cut it in that department and chose to leave…after his dog Greta was shot and killed by a robber.
Although I completely understood why Frank went to visit the dog who faced possible euthanasia, I loved that Garrett was there to show him how his actions could be interpreted.
Garrett: Dog bites boy. Reagan checks in on dog. What's wrong with this picture?
Frank: Oh.
Plus it's always great to see Frank stand up for what's right, especially when it's someone who can't fight for themselves.
Thanksgiving dinner was an event I didn't want to leave as everyone gave thanks for what they had, but Jamie's declaration was by far the best of the bunch.
I'm thankful for all the ordinary citizens who have come up to me on the beat over the past year and thanked me for my service All two of them. Also bullet proof vests.

Jamie
Amen. And that's just one more reason why I'm thankful for Blue Bloods.
C. Orlando is a TV Fanatic Staff Writer. Follow her on Twitter.