Eli stirred coffee and stirred in his seat to kick off Boardwalk Empire Season 4 Episode 10.
Meanwhile, Knox probed for names to tie to his case. When Eli's tip turned up to have been dead for two years, Knox paid a visit to Eli's home to stress just how much he means business.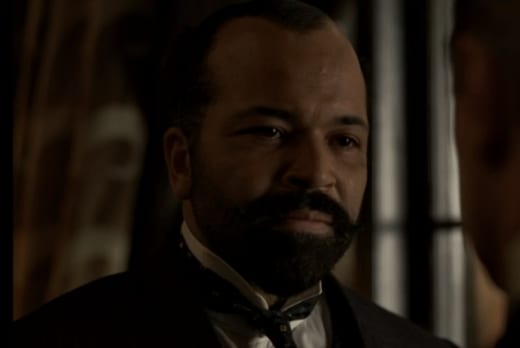 Despite rattling Eli's cage, Knox still doesn't have much evidence to support his case and he failed again this week to get Hoover's attention. His desperation to prove his theory may be his undoing. Impulsive acts, like when he shot that convoy driver in the head, have a way of coming back their agent.
Knox itched his trigger finger, but his lack of a figurative smoking gun showed Eli has yet to give up his brother. Seeing Willie involved the way he was will surely now play into his course of action.
Will he be more inclined to rat out his brother, to save his son from going down the same path, or will he instead try to preserve his family's way of life to ensure to help ensure his son's future in it?
Last week, on Boardwalk Empire Season 4 Episode 9,  Nucky contemplated heading to Tampa for a change of scenery, but after learning about Narcisse and Mayor Bator's new friendship, I don't think he will want to leave his city unattended anytime soon.
Nucky has tried to stay out of the beef between Narcisse and Chalky, but when the doctor drew a line in the sand this week, Nucky stuck by his friend. 
Doctor Narcisse, there's something I've been meaning to ask you, for quite some time. Who the fuck, do you think you are?

Nucky
Nucky held his ground when Narcisse came looking for Chalky, but he couldn't hide his surprise when it was revealed Narcisse was partnered with Masseria in the heroin business. Narcisse has powerful partners and politicians in his pocket. Given the interest Hoover showed in Marcus Garvey, it may not be long before Knox's knowledge of Narcisse commands his boss's attention. 
Margaret was surprised to get another visit from Arnold Rothstein, but she made it work to both their advantages, didn't she?
Rothstein: I've never done business with a woman before.
Margaret: Well, how did you like it?
Rothstein: Quite the treat.
After seeing Rothstein looking a little desperate last Sunday, it was nice to see him back in good form eating his cake and sipping his milk. Margaret's inside information stands to return him to a level of affluence he is normally accustomed to.
Torrio has brought Al along and knows him as well as anyone. Recently it seemed like he has happily taken a back seat to the business allowing Al to run things more and shoulder the resulting pressure and heat that comes with it. Al is going to wonder, though, about the timing of Torrio's departure and the attempt on his life shortly after. I don't think Torrio was behind the gunmen, but I think we'll see a paranoid Al make a rash decision.
Van Alden will play into whatever transpires with Al it seems, while the same could be said for Richard with Chalky after we saw the respect Chalky paid him in the alley and how Richard tended to his gunshot wound. What did you think?