Hi all! I'm an avid fan of television and big fan of TV Fanatic. 
I've been watching Brooklyn Nine-Nine since the pilot, and I'm really enjoying it. The sitcom has impressed as a strong ensemble comedy, continuing to grow with every episode.
Last week, we saw Peralta get the upper hand by successfully pulling off a heist in Captain Holt's office. Peralta's time on top was limited, however, as he was to back screwing things up and facing the ire of the whole team on Brooklyn Nine-Nine Season 1 Episode 7.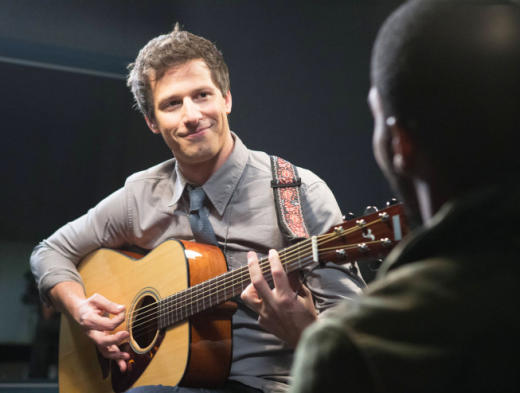 Having arrested a robber with insufficient evidence, he and the team had 48 hours to solve the robbery.
And two full days with this bunch all stuck together equals a lot of fun.
Jake Peralta is a bit of a conundrum, and I quite like that. On the one hand, the way he treats everything with excessive jocularity can be a bit off-putting. On the other, he is a brilliant cop even when he jumps the gun – he was right about the suspect - and he doesn't shirk away his responsibility and culpability when he's made a mistake that hurts the team, costing them their weekend. 
He walks a very, VERY thin line between confidence and cockiness, but Andy Samberg manages to pull it off while still making the character likeable. 
That's why I can laugh uncontrollably when Peralta tries to get a suspect to talk by annoying him with a non-tuned guitar and shrieking; why I cheer for him when he's catches the bad guy; and why I'm not surprised when he gets Santiago her date.
The rest of the precinct found ways to amuse themselves while working a 48-hour weekend shift. 
Charles' struggle with telling Chelsea and Diaz what he thought of their pies was pretty hilarious, and I honestly didn't see it coming that he hated both pies.  
Also, any time they make Terry Crews play against type is just pure comedy – I was completely with the Captain at the surprise that ANYONE would think he was weak. Holt continues to prove why he's a great captain; not just because he can keep Peralta on a leash, but with his perceptiveness about his staff.
I was really impressed that he could tell that Terry was avoiding going home and loved how he helped boost his image in front his brother-in-law.
The only character that continues to be a bit one-note is Diaz; the secretive tough chick thing isn't really going anywhere. However, the writers are doing a good job developing the characters so far and I'm keeping the faith that they have plans for her as well.
Other notes:
"Put it in the suck-it bucket!" I'm DEFINITELY using that line from now on.
I'm not great with sports figures – who was that playing Terry Crews' brother in law?
Terry is so buff he can fall asleep in the middle of a chin up. I can't even do a push up. Geez.