Why Glee felt compelled to run a brand new episode on Thanksgiving (again) is beyond me. But run a new one they did. 
The good news is that they buried an otherwise ridiculous and silly episode on a night when (probably) no one was watching, what with all the tryptophan comas and shopping. The bad news is that Glee Season 5 Episode 7 was 45 minutes of my life I can never get back and very little about it was redeeming.
I remember when Angel did a puppet themed episode. A demon turned members of Wolfram and Hart into felt versions of themselves. Puppet Angel had sex and didn't turn into Angelus. 
This puppet episode was nothing like that puppet episode. At all. Not even a little bit. 
In fact, the very best part of tonight's puppet show was Adam Lambert puppet, if only because it was Adam Lambert and basically nothing he could do on this show would be wrong. 
Seriously. And the Nasty/Rhythm Nation dance-fueled mash-up. That was great, too. Really great. Mostly because of Jacob Artist's abs.
But beyond that we just got an entire episode about Blaine envisioning everyone as puppets and having conversations with puppets and vague sexual innuendos being made about Blaine and Kurt puppet all because human Kurt called Blaine a puppet master. An. Entire. Episode. Happy Thanksgiving to us?
Okay, okay, so Sue's remarks about Blaine and Hummel-puppet (Hummet? Humpet? Puppel?) were funny. But then most of the time she gets the best lines anyway so it's really not shocking that she'd say funny things, is it? No, not really. 
It was sort of great to see the beginning of Sue's track suit love affair. ​Maybe there's something about that encounter 30 years ago that caused Sue to carry such a grudge against Figgins for all those years. Figgins told her to consider wearing pants in order to get the students to listen to her so she, of course, went so far to the extreme that the superintendent mistook her for a man.  
But hey, she got the job anyway, so there's that, right?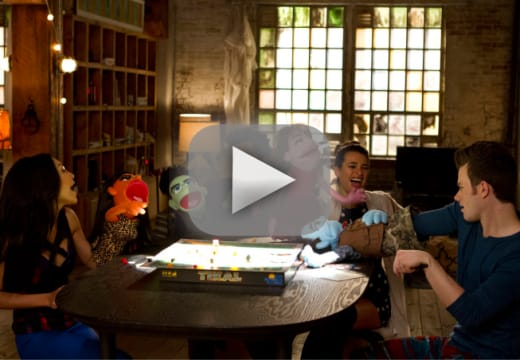 I'm still just so...miffed? irritated? amazed? flabbergasted? that Glee spent an entire episode devoted to Blaine's puppet hallucinations that I can't really seem to find the words to discuss what actually happened tonight. Which, if we're being totally honest wasn't very much at all. 
The writers are still trying to tease out drama with Jake and Marley, now via a pregnancy scare. I'm elated that they decided to have Bree not be pregnant because that was just entirely too Glee Season 1. Entirely. Though given the way this show likes to recycle storylines it wouldn't shock me if she had been pregnant. 
Marley's shunning of his apology is setting up a big moment for the pair at Nationals. I can feel it. They'll sing and realize they're soul mates and meant to be and see what I mean about recycled storylines?
Jake and Marley are kind of like the leftovers we'll all be eating for the next few days. 
What did you think of Glee Season 5 Episode 7? Were you at all impressed with the puppet show? Which puppet was your favorite? 
Miranda Wicker is a Staff Writer for TV Fanatic. Follow her on Twitter.