Grey's Anatomy Round Table: "Somebody That I Used to Know"

Christina Tran at .
Welcome back to TV Fanatic's Grey's Anatomy Round Table!
Our review broke down Grey's Anatomy Season 10 Episode 10, "Somebody That I Used to Know," in detail. Now, TVF's Christina Tran and Steve Marsi, along with Jarrod Mitchell, are back for a Q&A.
Read their answers below and weigh in with yours!
----------------------------------------
What was your favorite quote or scene from "Somebody that I Used to Know"?
Christina: Hands down, Cristina delivered the best quotes. However, my favorite scenes were the ones with Jo and Alex. I can't get enough of these two.
Jarrod: I'm going with Alex and Cristina moments about Cristina and her 'yah-yahs', which just led to Shane hitting on her. Not a fan of Shane or the kiss between Cristina and himself, but got some nostalgia from some very early seasons.
Steve: Cristina was on fire throughout. Some of the best Grey's Anatomy quotes in years I feel like.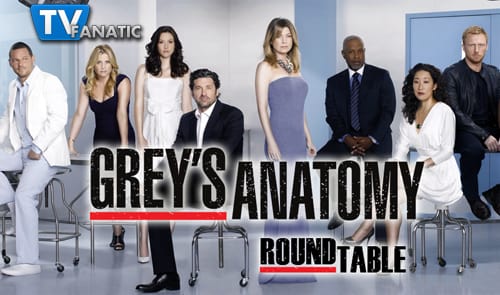 Cristina and Meredith's fighting clearly isn't going to be over any time soon. Are you enjoying the storyline still or ready for it to be over?
Christina: I actually like the way it's all playing out so far. Sure, there are some moments when I cringe because it seems unrealistic that Cristina and Meredith would be acting a certain way, but I have to quickly remind myself this is television drama and best friends do fight. We're nearing the mid-season finale, though, and they just seriously need to make up by the spring.
Jarrod: I assumed it would be over by now, but like Christina, I'm enjoying the way it's been played out. Hopefully we see it resolved before the mid-season finale, because if this lasts all season I will be extremely disappointed that Cristina and Meredith spent a majority of season apart.
Steve: Friends do argue, sometimes irrationally. Feuds do linger, sometimes beyond the point where third parties might understand it. So I don't think it's too unrealistic or necessarily something that has gone on too long ... although I do hope it ends soon.
Calzona's back together. What do they need to do to get their marriage on track? Should they even try again?
Christina: So much has happened between these two. If they really want to try, they need to be fully committed to seeing a marriage counselor together. Otherwise, I just don't think it's going to work out.
Jarrod: Seeing as Callie's already made up her mind and Arizona is following and apparently "trying," I guess I'll remain optimistic. Callie was prepared to forgive George for cheating with Izzie all those years ago, so I don't see why she won't forgive Arizona with whom she has a child with.
Steve: Definitely couples therapy and obviously better communication. Even then it's a stretch considering the strong personalities and the circumstances involved.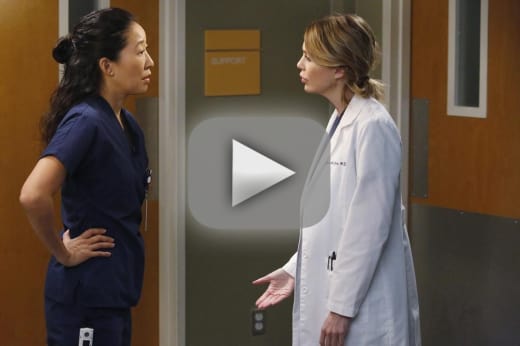 Did you believe Jackson when he told Stephanie that what he had with April was definitely over?
Christina: Yes, then again… I'd believe anything those gorgeous eyes would tell me. I really hope the wedding goes off without a hitch, but this is Grey's Anatomy. I still don't think Japril should be endgame though.
Jarrod: I don't believe it. However, truth be told April gave Jackson a chance in the season premiere and he chose Stephanie. Saying that, I'm a fan of Jackson/Stephanie and Matthew/April compared to Japril.
Steve: No. Opinions, hopes and dreams aside, I don't think he firmly believes that in his heart of hearts.
A majority of the episode was spent talking about Thanksgiving plans and what was on the menu. Describe your ideal Thanksgiving plate.
Christina: I don't care for turkey. Bring on the sides: stuffing, baked macaroni and cheese, green bean casserole, and mashed potatoes (with white gravy) please.
Jarrod: Going with the turkey and mashed potatoes with gravy. Every else Christina listed seems ideal, but I just love me some mashed potatoes.
Steve: Turkey is all well and good, but as Christina said, the sides sometimes can be just as good if not more noteworthy!