I am not a fan of handheld ghost hunter type fictional television episodes in general, and Haven Season 4 Episode 11 felt like a lot of wasted filler to get through to about 10 minutes of worthwhile content.
Coming off a strong, information-packed episode like we had with Haven Season 4 Episode 10, that was a bit disheartening. After all, we struggled through the first handful of episodes of this season with a lot of filler with Audrey/Lexie behind a bar due to circumstances beyond her control, so we have some making up to do.
But, it is what it is. I'm not going to waste any time talking about the visitors, because they didn't serve a purpose.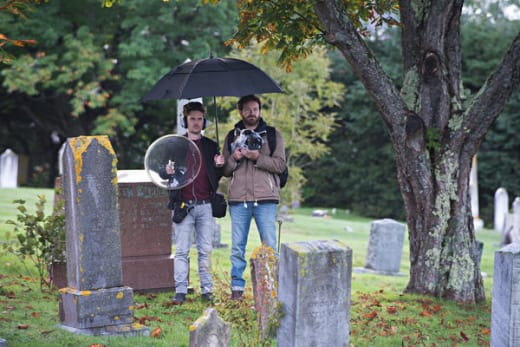 There was no sign of William this week, but neither he nor Audrey was hurt all that bad after their matching set of gunshot wounds (Audrey's without a bullet). Without much fanfare, Audrey had surgery, William escaped and Audrey was healed. Story over.
At least it hit her just how close they actually were, and she even asked Vince if he had any recollection of this William fellow. Not only didn't he have have any knowledge of him, he found it impossible to think Audrey could have had any part in creating the Troubles. Of course, that just cements her role in my mind.
Meanwhile a heart-eating beast was running through town chowing down on everyone born on June 12, 1981 - the day Jennifer was born. When the crew caught up with her she was clutching Unstake My Heart. The paranormal team had equipment that went berserk in Jennifer's presence, but it was related to the book. When Audrey took it, all activity stopped.
After the beast was vanquished while Jennifer was clutching the book, she saw on the cover - where the moon was - a glowing Guard symbol. The book was her protection against the beast. Later when she opened it, there was an inscription that named her a child of ruin who can open the door and send evil through it. 
So everybody realizes that's why William was trying to kill Jennifer. She can open the door and send him back where he belongs. Personally, I was more interested in the "child of ruin." With the many connections that book has to Audrey, Agent Howard, Jennifer and her adoptive parents, doesn't it seem that she's the child of William and Audrey in their original form - which is ruin?
She has to be. She can open the door for them because they are her family. Audrey doesn't want to think she's ruin, but I think she's going to find out. I'm still clinging onto the premise that she was given the opportunity to atone and has done it, and that's why William is so angry.
I was upset that this episode wasted so much time on the Darkside Seekers because we didn't need them. There is so much story to discover with Nathan and Audrey now that they are openly in love and Duke and Jennifer now that they are newly in love that these other stories are distractions. 
Dwight kicks ass as the Sheriff and there is plenty for the cast and a Trouble to deal with. We've barely scratched the surface of the new roles introduced in Haven Season 4. There's no need to go so big when everything they have is right before them. 
Carissa Pavlica is the managing editor and a staff writer for TV Fanatic. She's a member of the Critic's Choice Association, enjoys mentoring writers, cats, and passionately discussing the nuances of television and film. Follow her on Twitter and email her here at TV Fanatic.