It looks like many of the theories posited by faithful viewers of Haven are true. Audrey and William share a deep, somewhat dark (if unknown) past and they are responsible for the dawn of the Troubles. 
In Haven Season 4 Episode 10 William revealed the reason Audrey always ends up back in Haven.
You gotta get this idea out of your head that you're some saviour here to fix the Troubles. The real you? You made the Troubles. Why do you think you're the one who has to come back to Haven over and over? Why do you think you're the one who has to deal with the Troubles? You made them.

William
He went on to say that they created them together and they liked it​. We kind of saw that coming, didn't we? That their connection was as deep as a shot to William physically affecting Audrey, however, was unexpected. It also brings up the question again as to whether or not the duo is human or something else.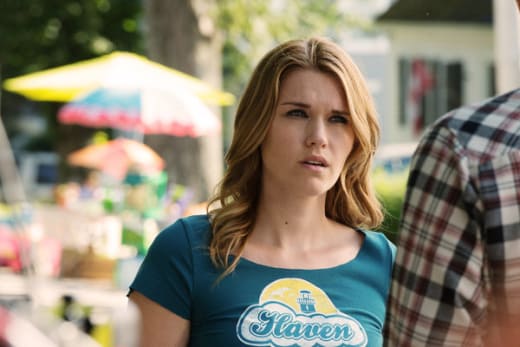 The Trouble with the Troubles was evident during the hour because the people who have them don't make the best use of them. Cliff could have saved everyone a lot of trouble if he had just wished his wife well instead of wishing there were no Troubles at all. 
I realize that wishing the Troubles away might have seemed like an overreaching wish that would fix everything, but since his wife was already injured it seemed to me that the time to wish them away had passed. If he hadn't wished away the Troubles, we wouldn't have had a glimpse into the cool lives our favorite Havenites would have lived if they were Trouble-Free.
It was fun to see dandies Vince and Dave, but it wasn't surprising to me in the slightest that Duke would make a kick-ass police detective. The same skills that made him a brilliant criminal have made him an excellent part of the Trouble fighting team, so it felt right.
The biggest surprise was Nathan's journey to medicine, something he could never do without the ability to feel. I felt more emotion from Audrey watching him "feel" the tear in a patient's chest than I have in a long time. It would have been difficult in that moment not to want thing to stay as they were, even after learning he had a wife and daughter.
But, that's when William showed his face. At least once William brought up the issue of Audrey being someone who liked and wanted the Troubles it wasn't brushed away for a rainy day. William is hell bent on exposing her to herself to get her back. 
Were they the Bonnie and Clyde of their world? It certainly seems like it. What powers did they have that were so great that they created the havoc that descended upon Haven and then someone saw fit to punish Audrey for as long as - what, forever? At least in 27 year intervals where she would be recreated and made to live and love only to lose it all again as penance for creating the Troubles.
Gods? Witches? Whatever they were, Audrey doesn't remember and she doesn't want the secret out. If William dies as a result of the gunshot wound from Nathan, will he take her with him? Where has he been when she's been out of the Bar(n) on the other years? Was that Agent Howard's role? To keep William away from Audrey so that she would serve out her penance?
As strange as it is, I like this new layer to the story. It's just strange enough to work. It expands the mythos of Haven. I'm also more interested in where Jennifer stands in all of this and missed her presence this week. Could she be another daughter of Audrey, perhaps by William? Anything goes at this point.
Kudos to those of you who have been piecing things together, bit by bit. What are your thoughts now? Hit the comments with your latest theories!
Carissa Pavlica is the managing editor and a staff writer for TV Fanatic. Follow her on Twitter.