How I Met Your Mother Review: Zabka-Tage

Chris O'Hara at . Updated at .
Family ties were tested this week, as both Barney and James's fathers arrived at the wedding.
How I Met Your Mother Season 9 Episode 10 also marked the return of Detective Mosby when Ted set out to find who tried to frame him.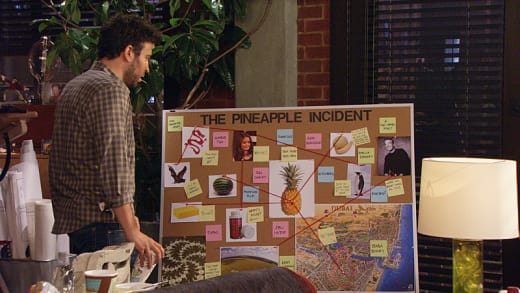 Barney lost touch with reality a bit as he sought to reunite his parents, but in typical fashion didn't let a little thing like his father being married dissuade him. 
Like he has on many an occasion, Barney enlisted the help of his trusted driver Ranjit to help hatch his plan. Ranjit never fails to deliver some laughs when he answers the call of his long-time friend. 
Detective Mosby has a few cold cases to his name, but was resolute in his pursuit to find the ink-spilling culprit. I loved the addition of the Beastie Boys to the episode's soundtrack in the scene where Ted uncovered the Zabka-tage, capped off by Lily's second tackle of the weekend.  
Marshall and Daphne's wild ride finally came to a close, but not before Sherri Shepherd delivered her best scene of How I Met Your Mother Season 9.
Kids, they don't understand logic, kids understand who shows up. That's why her dad's her hero and I get hung up on.

Daphne
The speech Daphne's daughter gave was hilarious and touching, but my favorite moment from that arc this week was seeing little Marvin at the wheel during The Proclaimers montage.
Overall, the best moment had to be Billy Zabka recounting a lifetime marked as a bad guy. 
Twenty-five years of getting crane kicked in the nuts.

Billy Zabka
This time he actually was the villain, but showed some class when he told Ted "You're alright, Mosby" just like he did in 1984 with Daniel LaRusso in the final scene of The Karate Kid.
This storyline on its own was reason enough for me to rank tonight's episode as one of the season's best.