Ahhhh! Castle Ghost!
Mary, THERE IS A CASTLE GHOST UNDER YOUR BED!!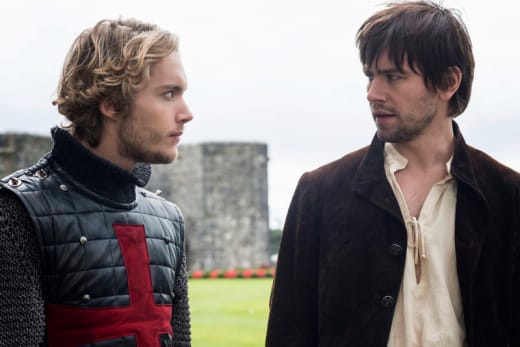 Uh, sorry, just had to get that out of my system. But hopefully, you don't blame me; my adrenaline (which normally only gets jacked up when I miss the bus or find out about a sale at ASOS) was running high after Reign Season 1 Episode 4, which - in addition to being one of the show's strongest episodes so far - was packed stem-to-stern with all different kinds of monsters.
This episode showed what the series is capable of, now that it's in full swing - and it was a total, utter blast, a great, soapy mix of sex, knife fights, death threats and plotting. Oh, the plotting! I'm too excited for the all the plotting that must still lie ahead!
But before we go any further, let's discuss tonight's top monster: Tomas. Tomas went from corny to Lifetime Movie-villain-evil this episode; I would say he personally fell somewhere between Blackbeard and the guy from "Mother, May I Sleep with Danger?" on my personal Bad Dude scale - and his absolute evil allowed the episode to really shine.
It was the first time we've seen the Brothers Royale in action together, witnessing the powerful things they can achieve with a united front.
It was a delight to see them get macho, and delicious to watch Tomas go down. I hope Reign Season 1 can dig up a few more baddies as bad as him before slipping back into all that ambiguous what-is right-for-the-empire stuff. This show is always entertaining, but it's at its best when someone is getting stabbed or being seduced.
Queen Catherine's involvement in the plot was a nice twist that I did not see coming, even though Catherine de Medici was a pretty infamous historical figure, as well as a suspected prolific poisoner ( yes, most of my knowledge of European history does come from the cartoon version of "Robin Hood," it's true). The rumors were never confirmed, but here's hoping Mary picks up a new food taster some time soon, anyway.
The Ladies-in-Waiting Report: Lola (the Brunette One) seems to have moved on from her dead boyfriend rather quickly, and I guess good for her (though I do hope her involvement with Bash brings her into some love quadrangle with Francis and Mary - I'd hate to see the tension we saw between Mary and Bash in the first episode fizzle out so quickly).
Greer (the One Who Looks Kinda Like Chelsea Handler) is still getting cute with the baker.
Kenna (the Mistress-y One) has decided to Go All the Way with King Henry, because would this really be a teen soap if one of the characters didn't hook up with a totally inappropriate adult authority figure?.
And Aylee (the Other One), uh, well, she seems to be doing okay enough.
I was tempted, when I first heard about the show, to dismiss Reign as a sort of Gossip Girl-at-the-Ren-Faire experiment. But I am delighted to be proven more and more incorrect each week. This is a show with its own unique heart, its own unique vibe, and its own unique (literal) queen bee... who is cast from a very different mold than most of the teen girls depicted on TV. I'm officially hooked.
And of course (last but certainly not least), this week's Official Reign FashionWatch: 7/10 (the Ladies were wearing some dresses that I wasn't crazy about), but I think that cloak that Mary wears while she's talking with the prostitute would be an amazing look for any of you with upcoming winter weddings.
What do you think will come next for Mary and Francis? How well do you think Kenna is going to get along with Henry's other women? What do you think Aylee does when all of her friends are off making out?