Carrie gets the opportunity of a lifetime on this week's The Carrie Diaries.
In The Carrie Diaries Season 2 Episode 4 Carrie gets the chance to pitch her first story!
Unfortunately she finds herself a little too involved with her subject.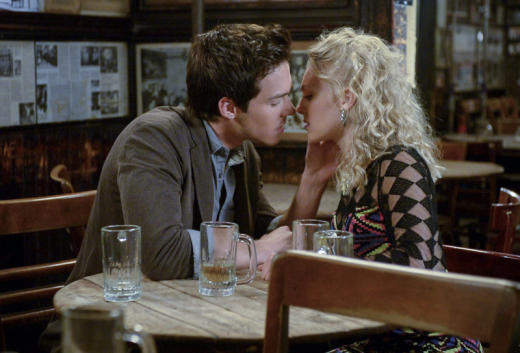 Despite the fact that high school is back in session, Carrie's life in the city hasn't slowed down one bit. With her classes at the New School she is finding herself inspired. Luckily for her, she has a boss who is willing to give her a shot at pitching her own story.
With lots of ideas brewing, Carrie decided that she would try and nab an interview with the elusive playwright Weaver. Even Bennett and Larissa are doubtful she'll be able to get a conversation. However, she got a lot more than she bargained for.
Carrie connected with Weaver over their personal losses and she found herself too invested in him to write the story. She got too close to her subject. That's both a great strength and weakness of Carrie. She has the compassion to get close to people, but unfortunately for her journalism career, she sometimes gets too involved to remain objective. Now she blew her first big shot with Larissa.
Was it worth her first article just to connect with a guy who wasn't Sebastian?
Meanwhile back in Castlebury, Sebastian was avoiding school, playing Nintendo, pining after Carrie, and trying to distract himself with the very sexy Molly Sims. Sebastian has admitted he's still in love with Carrie and he just needs to stay away because he thinks he ruins everything for her. Cue Vicki the cougar.
Hey there Mrs. Robinson, any interest in some fun?

Sebastian
How long can Sebastian distract himself with Vicki? What was the deal with Maggie showing up at his house? Is she trying to pursue something after the disaster of her making out with Sebastian in the first place? That would not be wise if she is trying to mend her friendships.
I'm glad Walt and Bennett agreed to be exclusive. They have feelings for each other and should give it a real shot. As for Tom Bradshaw and his lady? The merging of the kids was a big deal. The fact that she was too blinded to see that her own kid was being a brat, was a little nuts. Sure Carrie and Dorrit weren't perfect angels, but I don't think Tom is convinced that they are.
By the way, Dorrit having sex in Carrie's bed? Gross! There are sibling rules about that!
What did you think of the latest episode of The Carrie Diaries? Hit the comments!