On The Mentalist Season 6 Episode 5, we saw Patrick Jane get closer than ever to the identity of Red John.
As Kira Tinsley lay dying after being attacked by the elusive serial killer, she managed to tell Jane one vital piece of information: Red John has a three-dotted tattoo on his left shoulder.
So, as the preview for The Mentalist Season 6 Episode 6 tease, Jane gathers the five remaining Red John suspects to finally find out the killer's identity.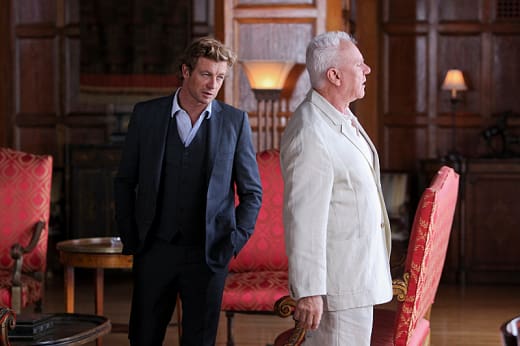 I had an early peek at tonight's installment, written by Ken Woodruff and directed by John Showalter, and here's a sneak peek at what you'll see in tonight's thrilling episode.
We begin with Jane setting the stage for confronting his suspects, then go back 2 days.
We see Stiles and his disciples during a ritual that tells us more about him and his power.
Jane gets help from Teresa regarding gathering the suspects together. 
Jane realizes the suspects cannot know he knows about the tattoo.
There's a heartfelt moment between Jane and Teresa.
Jane also has his own quiet moment before commencing the evenings activities.
The list of five suspects is shortened after this episode.
As we saw in the preview, there is a big explosion but who is involved? Hmmmm...
Do you think Jane will finally get all his answers and the identity of Red John will finally come to him? Of the five suspects, who do you think is truly Red John?
The Mentalist airs Sundays at 10 p.m. on CBS following The Good Wife.
UPDATE: Due to NFL overrun, this episode of The Mentalist will now air next Sunday, November 10. Tonight will be a return.
Jim Halterman is the West Coast Editor of TV Fanatic and the owner of JimHalterman.com. Follow him on Twitter.