For those who ever wondered why Blake was so quiet for most of the season, and why she seems to hold her cards so close to her chest (though not as close as Hotch), this episode resolved much of that mystery.
Losing a brother to a bad bust on an armed robbery call, plus losing her mother, played into her need to get away from Kansas City and, by extension her father and brother - both of whom remind her of her loss.
Seems a bit selfish, though understandable. Here we have someone employed to get into the heads and motivations of criminals and yet she hasn't dealt with her own issues. Profiler, heal thyself.
The case of the week for Criminal Minds Season 9 Episode 11  involved an Unsub who was once a victim of bullies at Blake's childhood rival high school, Jefferson High.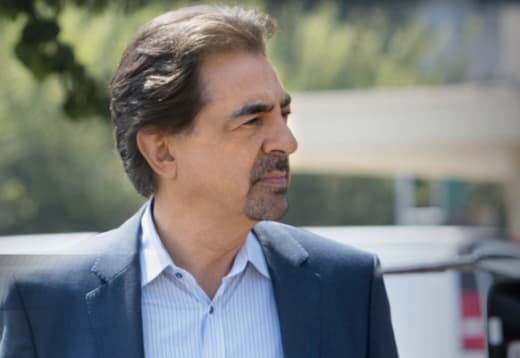 As a kid, being utterly helpless against bullies in school probably feels like the worst thing in the world. In this example, the straw on the camel's back was the Unsub watching his friend being forced to wear girl's underwear and parade around in them while his classmates took pictures. 
And then being aware that his friend likely committed suicide shortly afterward. 
It took quite a while, and he had to bulk up by dosing with steroids and working out at the gym (plus, you know, he had to get a haircut). Then, he was finally ready to provide some payback for the abuse against his only friend in high school.
We never learned what connections Damon Miller - Blake's father - made to make him suspect that the murder of David Morrison, Tommy Barnes and Melissa Hawthorne were all related, but maybe it doesn't matter. 
Blake knew him to be "a great cop" who is "almost never wrong" - and that was enough for her. It wasn't until one of the earlier victim's father was brought in for questioning that they learned that he had altered the crime scene, replacing all of the clothes and ensuring that his dead son didn't appear dressed only in women's underwear.
As brother and sister worked the case, their sibling dynamic was very well captured, including the rolling of their eyes - each at different times - and the sighs of exasperation, particularly from Scott. It would be painfully familiar to any viewer with siblings, I think. 
Blake's need to get away from Kansas City after the death of her mother seems pretty classic: when it comes to fight or flight reactions, she chose the latter. Her pain must have been awfully deep to keep her from even talking with her brother or father over the years, though. 
That seemed a little odd, even excessive. She told her brother she's going to "work on it" but what exactly is her intent? Does she mean she's going to try harder to stay in contact, or will she go for some therapy?
While it was fun to see the BAU all gathered at Blake's dad's house for a barbeque at the end, this episode seemed a little bland. Bully goes off the deep end, and gets caught (glad they didn't have to shoot him), and Blake has some family issues which appear somewhat resolved. Straightforward and lacking in a lot of mystery - not the usual fare.
What did you think of the episode? Did Blake's back story resonate? Did it explain her seemingly closed character?
Note: the next episode of Criminal Minds Season 9 is scheduled for January 15.
Douglas Wolfe was a staff writer for TV Fanatic. He retired in 2016. Follow him on Twitter
.