Now that you've digested Christmas dinner and started putting together your presents, we're excited to inform you that there's one more surprise left under the tree:
The Gossip Girl "Roman Holiday" Rewatch breakdown!
Blair was out for vengeance, Serena and Dan did a gift swap, there was one of the sweetest moments ever, and a painful one. Let's discuss.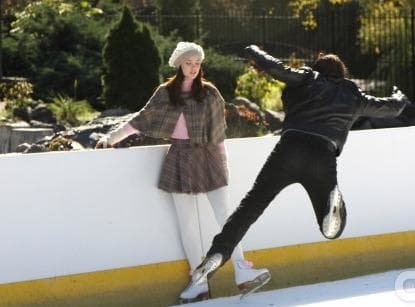 Oh I momentarily blocked out the fact that Jenny was in the Constance acapella group! "Santa Baby" is a pretty sexy Christmas song. Even Mindy picked it out for her spontaneous Christmas party seduction performance on The Mindy Project.
Well despite how outrageous the shenanigans usually are on the Upper East Side, it seems that Christmas on Gossip Girl is much like it is for the rest of the world: last minute scrambling for gifts, family drama, and traditions.
After Gossip Girl season 1 episode 10, Serena and Dan were flying high on their love. But what do you get for the girl who has everything and the guy whose best friend just got him a gift you can't top? With the help of their respective elves, Dan decided on a real Christmas tree and Serena decided on snow. No, not the kind we later find out she used to put up her nose with Georgina Sparks, but the real kind.
I always thought that Serena's gift to Dan was one of the best Derena moments of all time. There's this cozy serenity that comes with a snowy atmosphere, and paired with a bare room and Blake Lively on a cushiony bed, well...what more could a teenage boy want? It was the perfect moment for their first time and one you know they both definitely remembered over the years.
Blair was Blair, channeling her frustrations and need for control into endless scheming. By the way, did Nate just never show up to her Christmas Eve party? Standard Nate. I loved that Roman helped Eleanor get laid, because despite the fact that they were friends before Marc Jacobs ever went to rehab, he also did steal her husband. The three of them needed to learn to be around each other again.
Roman: Eleanor, we've been friends for a long time. Since before Marc Jacobs went into rehab.
Eleanor: Friends don't steal other friends' husbands.
For some reason, I found myself tearing up when Harold showed Blair the slideshow of the chateau, complete with Roman holding the cat. I guess I get misty around the holidays!
Last, but certainly not least, Rufus and Alison are done with trying to reconcile. Rufus wants Lily, but Bart Bass has beaten him to the punch. Despite the constant misfiring of Lily and Rufus, I always had a lot of fun watching Serena and Chuck adjust to siblinghood. The romance from 20 years ago had to wait a little longer, but it was a hell of a ride along the way.
I hope everyone had a joyous holiday and we hope you watch Gossip Girl online at TV Fanatic!