Gossip Girl Rewatch: "Victor/Victrola"
Leigh Raines at . Updated at .
Finally we come to one of my favorite Gossip Girl episode of all time!
Gossip Girl Season 1 Episode 7 is amazing for so many reasons, but let's jump to the number one thing it's known for: Limo Sex.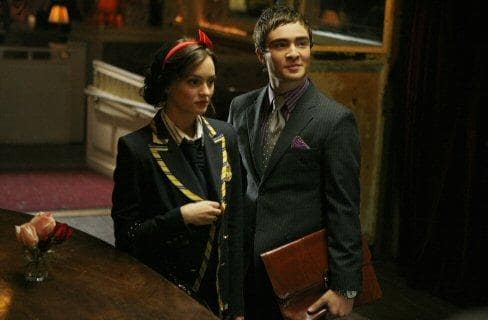 That's right, it's one of the biggest Chuck and Blair moments of all time. Chuck de-virginizes Blair in the back of his limo after the two indulge in a night of debauchery at Chuck's new club Victrola.
The fact that Victrola is a real place in New York City, named The Box, just makes this all a little bit more fun. It's an actual burlesque club, but the kind of shows they put on are about 100x more scandalous and downright raunchier than anything the CW could ever show. That said, Chuck Bass would effing love it.
It was a downward spiral of things that led Chuck and Blair to that fateful moment: Jenny told Blair about Nate trying to kiss her at the masquerade ball in Gossip Girl Season 1 Episode 6. Jenny is banished back to social Siberia. A coked up Captain tells Nate he must make amends for the sake of his business. He gets out of control and Nate ends up decking him. Blair takes Nate's limo to Chuck's club to let loose.
Meanwhile Bart Bass rejected Chuck's first honest effort at a real estate investment. Chuck feels rejected in the way that only Bart Bass can make him feel. He rats to Lily that Bart still his women about town.
Somewhere across town Serena and Dan are in the honeymoon stage, admitting their love, trying to take things to the next level without Cedric looking at them. Vanessa does what she did best in season one and ruined the mood. Yet they still manage for some sweet moments.
It's all in the details
- Anne Archibald's INSANE ring.
- Blair's Marc Jacobs dress that my friend tried to hunt down for months afterward.
- Blair stripping to Soho Dolls "stripper."
- Vanessa telling Dan to hide Cedric, get some candles, and lose the football sheets.
- Dan's vivid and paranoid daydreams about Serena's "experience."