Grey's Anatomy Review: Don't Call Me Duckie

Christina Tran at . Updated at .
Like many loyal fans, I've been watching Grey's Anatomy since the very beginning.
However, I've never really been able to truly relate like the way I did to Grey's Anatomy Season 10 Episode 11.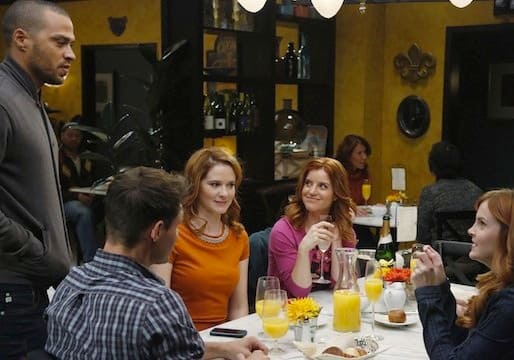 I felt like April's storyline was kind of sort of mirroring my own. Like "Duckie," I also have three sisters who recently visited and threw me a bridal shower. While most of the gifts I received were directly from my registry, I thought it was hilarious that April received a particularly interesting gift - a frilly, lacy thong! It was moments like these that lightened up the busy and heavy episode. 
But while April fired her siblings, I'd never do such a thing; I'm totally grateful my siblings are nothing like the annoying Kepner trio. I thought it was awesome how April told her sisters off and then hired Arizona, Meredith and Cristina as her new bridesmaids dream team. It just went to show that you have to stick up for yourself because no one else will sometimes. 
It was interesting that Meredith and Cristina actually sat next to each other during the shower. In fact, they even talked during this episode. Well, actually it was much more like fighting again, but at least they were finally communicating again, unlike in Grey's Anatomy Season 10 Episode 10. This time it was about Ross. Ugh, I'm so over him. More on that later, though. 
The 3D printer drama was far from over as Meredith almost crossed the finish line. Unfortunately, her sheep died. The baby in Cristina's case was stabilized and came off the oscillator. Who's glad they both at least managed to take turns with the printer and at least played nice and asked one another about their progress? I know I am. 
Elsewhere, Matthew and Jackson were forced to work together after witnessing a terrible accident. Talk about awkward! In the end, Matthew encouraged him to come to the wedding. I honestly like Matthew and still want April to marry him but I won't be holding my breath. This is Grey's after all.  
Meanwhile, Bailey's definitely not okay. At first, she refused to take medication as her compulsive behavior was still evident. Thanks to Richard, she changed her mind and took her first pill. By the way, where was Ben? I hope he won't give up on her. 
Lastly, Alex's dad returned and was suffering from withdrawals as he was trying to get clean. During a hallucination, he slammed Jo against the wall. It's a good thing that Alex was there. I liked that Jo still stuck around and slept by Alex's dad's bedside regardless of what happened. This speaks to how much she loves Alex and how caring of a doctor she truly is. 
Other thoughts:
It was shocking to see that Shane and Cristina's kiss last week escalated to them in the on call room. Seriously?! Also, I can't stand the way that Ross talks to Meredith. She needs to teach him a hard lesson fast. 
I was glad to see Richard finally all better and released from the hospital. I loved the way he helped Bailey and can't wait to see him back in the OR already.
I absolutely loved Callie and Derek's case with the robotic hand. I couldn't help but to shed a tear as the patient reached out to her husband. 
Calzona decided that they were over just talking because it always turned into fighting. New flash: your marriage isn't going to last if you can't learn to communicate. When are these two going to go see a therapist?
Be sure to return next week to chime in on our Grey's Anatomy Round Table. 
Overall, I thought "Man on the Moon" was good but nowhere near the best. I'm ready for next week's 2013 finale of Grey's Anatomy Season 10.
So, do you think April will actually make it down the aisle? Will Cristina and Meredith stop bickering by then? I'd love to hear your thoughts so start commenting away!