It's really difficult to believe that there is only one episode left to Haven Season 4. Unfortunately, Haven Season 4 Episode 12 still wasn't firing on all cylinders, despite the urgency to deliver a satisfying conclusion to an otherwise tame season.
I'm well aware that my opinion isn't the popular one, but I can't allow fandom to get in the way of an honest discussion. And make no mistake; I am a fan of Haven. The cast is strong and the acting is fabulous. The writing still has flashes of brilliance, but the curtains have been drawn on much of this season.
The bar was set very high, and not every season is always going to be stronger than the one that came before. What could have been a hot story has been tepid and slow. Is Haven still more unique than a lot of what television has to offer? Yes. Is it up to par with what Haven delivered in its first three seasons? No.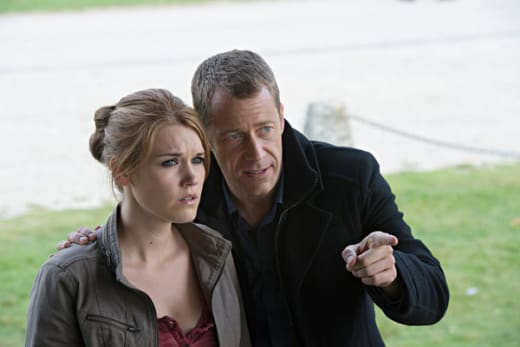 I'm one of those people who likes to eat my meals by squirreling away little portions of my favorite bits on the plate. I - quite literally - save the best for last. I don't recommend that in a television series. 
"When The Bough Breaks" dragged out about 20 minutes of useful material into 44 minutes of airtime. There was too much deliberation over whether or not Audrey was going to rub the little black balls of Trouble in her hands to create one to stop another.
Too much time was spent watching the guard symbols flash and spin before Jennifer, Vince and Dave found the Heart of Haven. These things seemed relatively set in stone given the circumstances of the next to the last episode and what needed to be accomplished, so the pacing was agonizing.
When Audrey first blackened her hand to give a Trouble and gave the slightest smile, it was a relief. Even more when Duke called her out on remembering her original self, even if she might not have fully comprehended it.
If there is one thing that this story has taught us, it's that Duke's friendship with Audrey has given him a much deeper understanding of her than Nathan has received through his love at arms length. Duke never misses a trick where Audrey is concerned. He knew her enough to see through her lies as Lexie, and to spot her recognition of self when she created a Trouble.
Nathan has a lot of catching up to do.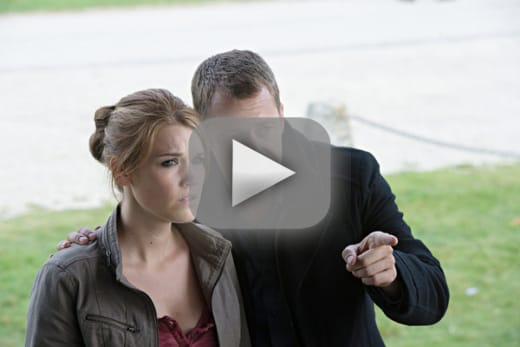 I wonder if Audrey will go through with giving Duke his Trouble back, given where the episode left off. That smirk he had on his face seemed to signal something in Audrey, almost a memory of her original self. His smile kind of matched the one she made when she created the Trouble with Lincoln. It was certainly thought provoking.
It was odd that Duke wasn't more interested in what Jennifer found at the lighthouse. If she found the Heart of Haven, and it's what will send William back to the hole he has been rotting in for ages and could set things right again with Audrey and all of the current Troubles, why didn't he give it more credence? 
Perhaps there is a part of Duke that misses his Trouble as much as the original Audrey enjoyed making them. Being a hero is difficult without the one thing that set you apart from everyone else in town. He had to kill to stop the Troubles, but at least he had the ability if someone requested it. Hearing that his curse was a blessing only buttered his bread, so to speak.
Next week it looks like everything we've been waiting for will be squeezed into the final hour of the season. Haven has consistently delivered incredible and shocking finales. I expect that will be the case again. I just wish what lead up to it could have been as remarkable.
Carissa Pavlica is the managing editor and a staff writer and critic for TV Fanatic. She's a member of the Critic's Choice Association, enjoys mentoring writers, cats, and passionately discussing the nuances of television and film. Follow her on Twitter and email her here at TV Fanatic.