How I Met Your Mother Review: Surprise!

Chris O'Hara at . Updated at .
Robin standing over a handcuffed Barney may not have been a shock if it was their honeymoon, but with 22 hours to go until the wedding, Barney certainly had some explaining to do. Robin had every right to be upset as How I Met Your Mother Season 9 Episode 12 got underway, as she was missing her rehearsal dinner.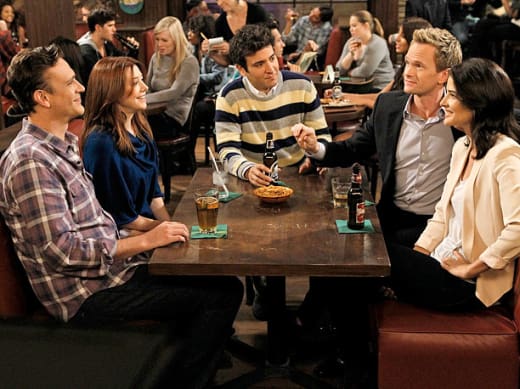 While I feel like most brides look forward to eating at their wedding receptions, Robin has never been one to deny herself anything has she? That said, she is not above compromise, as we saw when her idea of a Canadian wedding was repeatedly mocked with a slew of jokes about her native land.
Robin: Take a good look at this face Barney OK? Cause it will be useful for the future. This is my pretty mad face.
Barney: Well then we've got a problem, cause it looks a lot like your pretty hungry face.
Robin: I'm missing the bacon wrapped figs!
One thing Barney and Robin did agree on was allowing Ted to play piano at the dinner, so long as he tickled the keys dressed as Liberace. We got to see him playing briefly in the last scene, but his attempt at figure skating was a far better gift.
Speaking of gifts, cute as the suitcase of puppies was, Barney's attempt to get back at Robin was a bad idea, even by Stinson standards. He more than made up for it though, when he unveiled his laser tag ruse. As awesome as an Off Road arcade game with unlimited turbos would have been, bringing Canada to Robin complete with Alan Thicke and Labatt Blue was far more legendary.
For those who may have scoffed at the entire deception, remember this is Barney Stinson we are talking about. If anyone could pull that surprise off, it was him.
Marshall was absent from the episode, but we were reminded about the impact of his decision to take the new job, when Lily opened up to Ted and Robin. Ted showed his support as always, but even more telling of the bond these friends share, was Robin putting aside her issue to be there for Lily.
Robin: I'm sorry I don't have time for your drama right now, my fiancé is missing.
Lily: Marshall got picked to be a judge. He took the job without even asking me. Italy's off.
Robin: I have time for your drama.
The reviews of How I Met Your Mother Season 9 have been widely mixed, but we can't lose sight of how far we have come with these characters and how much they mean to each other and us as fans. I am just as anxious to see the wedding and Ted meet the mother as anyone, but that doesn't mean we can't enjoy the ride leading up to such pinnacle moments. What do you the rest of you mother minions think?