Masters of Sex Review: Rainmakers
Leigh Raines at . Updated at .
It was definitely hard to top an episode like Masters of Sex Season 1 Episode 10, but if that was the climax of things, this week was the aftermath.
Masters of Sex Season 1 Episode 11 dealt with Virginia and Lillian's new working relationship, as well as Bill's stress in the absence of Virginia.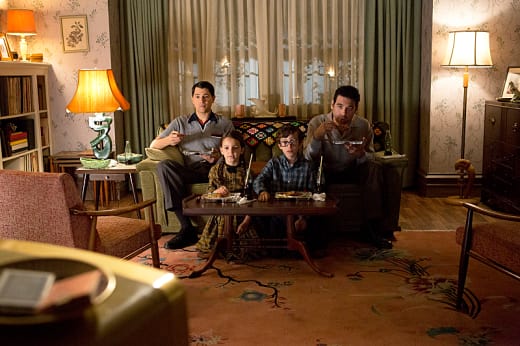 When Virginia went off on Bill last Sunday and called out their working and experimenting for what it really was - an affair - Bill was definitely more wounded than he led on.
For starters, he kept snapping at Jane and calling her Vir-Jane by accident. His complete absence at home led Libby to take a job as his other secretary. And then there were the Virginia Visions.
Libby: When do you stop feeling like you've got something to prove?
Bill: There's always something to prove.
Oh, Bill's got it bad alright. I find it interesting that Libby was harping so much on the couple that did it 23 times. Do you think she has any idea that it's Virginia and Bill? After all she knows their personal histories and she knows they got very close while working.
I enjoyed seeing Libby around the office and I agree with the new fellowship doctor that she has a smile in her voice.
So, 23 times, Did they fall in love? Well...the emotions are obvious to the audience. Bill, however, will never allow it and Virginia was so hurt by him trying to pay her that she went back into Ethan's arms and is now working for Dr. DePaul.
Now that she knows the truth about Dr. DePaul's cancer, do you think Virginia can take over and be the rainmaker (as Bill says) that DePaul needs her to be? Can she get the Pap Smear made commonplace for women's health?
Medicine today shows that it got done and Dr. DePaul would be proud. Is Virginia the right champion to follow her act? I think she would be great at lobbying for the cause. Look how much she already achieved in one day.
The pissing contest between Ethan and George was not surprising and semi-entertaining at times. The bottom line is that Ethan is the one who is becoming a constant in these children's lives. The only question now is whether or not Virginia definitely wants to create a future with him.
All in all, a good episode and one that will set up for next week's Masters of Sex season 1 finale. What are you thoughts?