Bill Masters finally made his big Human Sexuality presentation this week - and it was met with quite the reaction.
Masters of Sex Season 1 Episode 12 meant the culmination of all of Bill's hard work on the study.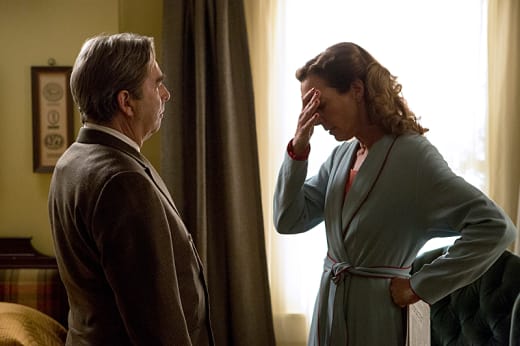 As Jane and a very pregnant Libby prepared packets and martinis, Virginia debated whether or not to even attend. Meanwhile, the entire hospital was buzzing about attending the presentation. Bill's big day was finally here. Heck, even Dr. DePaul went!
What started off as an engaging presentation, with a reactive and interested audience, turned very quickly once some of Lester's footage hit the screen. The internal reaction to the orgasm caused some squirming in the seats, but was still scientific enough to get a pass. When the footage switched to the outside reactions and footage of a woman masturbating, doctors immediately began to pump the brakes.
I think everyone was unprepared for just how erotic Bill's study was going to present. Virginia didn't even know he was going to use that footage. Speaking of Virginia, who obviously ended up showing up, how did people automatically assume it was of her? Was it because they worked together? Can other people detect the heat between them? Even Libby wanted to know if it was Virginia.
Bill was under a different kind of the heat with the University. He and Barton were about to be fired, when Bill quickly took the blame and made it seem like Barton never knew specifics about the study. It was very generous of him to save his friend, especially when that friend is considering undergoing a crazy electroshock treatment.
Granted, Bill had year to learn Barton was doing that, but still. He didn't think they should both lose their jobs.
Just to touch on everything Barton's going through, Margaret may be upset that she's been in the dark for 30 years but she also cares about Barton. She knows there are serious risks associated with the electroshock therapy and is feeling hesitant about Barton undergoing it. I guess in a generation where homosexuality was still so taboo and shocking, it seemed to them both that there was no other option.
Even if they happened to split, Margaret could do light years better than Austin. He is so shady in hitting on every woman in his path. The way he approached Jane about how they could still hook up when the study continues was pathetic. She clearly stated she didn't want to be in the study with him again. I'm actually really enjoying Jane and Lester's chemistry!
Ethan was off getting an offer at UCLA and he wants Virginia to join him. She wants to talk when she gets back, but there is a lot anchoring her in St. Louis. She wants to get a forum going on women's health. She's on board with helping DePaul but she still wants to accomplish even more.
Plus there's always Bill, who up until the finale seemed like a moot point. Now with his episode closing admission, everything has changed.
I finally realized there's one thing I can't live without. You.

William [to Virginia]
What will Virginia do? What do you think Bill should do next? Why do you think Libby wanted to wait before she called Bill after giving birth? Weigh in on the Masters of Sex season 1 finale now!