Nikita Review: Is Birkhoff a Fake?

Carla Day at . Updated at .
Is Seymour Birkhoff a fake? 
Yes, he is! Just not exactly as you we were led to believe in the Nikita Season 4 Episode 3 trailer. And, that's a good thing. A very good thing!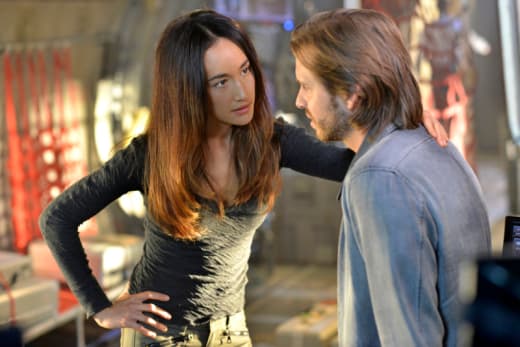 Up until the moment that Peller's face showed up on Birkhoff's computer screen, there was no doubt that he was "Nerd." He greeted Nikita with enthusiasm and counseled both Michael and Nikita as only he could. When Peller showed up as the NSA mole, he immediately changed.
My first thought was that Peller was Birkhoff's father. And, that's who he was revealed to be. Given what happened to the fake and real FBI Deputy Director, Birkhoff's hesitancy to reveal his "father" as the NSA mole made perfect sense. Was it the best option? No, but it was understandable.
As the same time, Ryan's fear that Birkhoff was a doppelganger was justified. Birkhoff was acting suspect and Amanda would love nothing more than to infiltrate their team in that way. In this case, Ryan was wrong. I'm glad that Birkhoff trusted Nikita enough to tell her the truth about his real identity and how he faked his death. He needed that little push to come clean.
They were all on edge though as was seen when the guns were pulled on the plane. At least it was resolved without any bullets flying. That would have been a disaster.  With Lionel revealed, they came up with a plan to get to Amanda, while doing everything they could to protect Peller.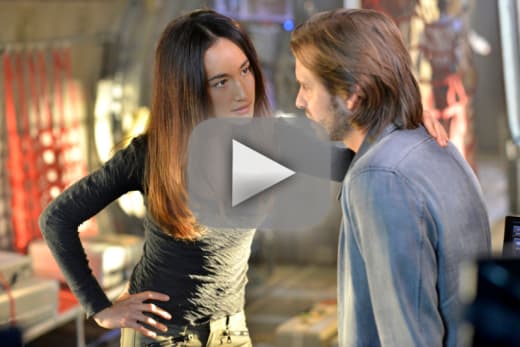 And it would have worked if Peller hadn't messed up! Seriously, why would he say something out loud in front of Amanda that would give up his son? Stupid! I hope that he makes it out alive just to avoid Birkhoff feeling guilt that it was his fault that his father was killed. Peller will be punished enough for his mistake by Amanda and her creepy experiments.
Amanda and the Shop's end game hasn't been made any more clear yet, but the tactics they are using are starting to be put together by Team Nikita on both sides of the globe. Alex's capture by the CIA wasn't a pleasant experience for her, but she ended up getting intelligence that will help them stop Amanda.
Nikita was the only one being framed for the President's "assassination." Alex was set up to take the fall for funding her death and being the middleman for Pakistan. And the Shop has a new doppelganger ready to be released. Who is it? And what will he do? That's a mystery.
Can they figure it out before anyone else dies? Or a major tragedy occurs? It's going to be a race to see who can win this one. Amanda and the Shop have the advantage, but Team Nikita won't stop until they bring her down.
The team dynamic has been odd over the first three episodes of Nikita season 4 with normal pairings split up. The banter and camaraderie is missing. Birkhoff/Sonya. Michael/Nikita. Nikita/Alex. Alex/Birkhoff. The pairings seem to have been purposefully split up. It's sad to see, but it's all about the mission. When they do get back together again it will be like heaven, right?
Odds and Ends
Nice incorporation of "La femme Nikita" during the news broadcast.
Alex's comments about all she's survived rocked as loud as the music the CIA played. She's tough and proved it. If the CIA "accountant" really considers all that happened and was said, she'd team up with Alex instead of investigating her.
The communication between Birkhoff and his father was touching to see. It's good they were able to communicate if only for one last time. Shadow Walker ... criminal? Or savior?
I was glad to see Sam return to help Michael save Alex, but he's definitely in it for himself. He needs Alex's money to save himself. What happened to all the money he had? Maybe her kiss on the cheek will some of Owen to reappear.
I'm growing a little weary over Amanda and the Shop's plans. It would be nice to at least get a glimpse into what is motivating them to do all this. We know a bit about what they are doing, but have no insight into why. What do they want to accomplish? And why?
Carla Day is a staff writer for TV Fanatic. Follow her on Twitter and on Google+.