For a milestone episode like the 100th, you always expect the requisite flashbacks as well as a reminder of why the show has been on the air so long in the first place, and The Good Wife Season 5 Episode 10 delivered on both counts.
The expectation that there would be more interaction at the holiday party was a bit of a letdown, as that was hardly much of an event at all, but there was an odd little nugget that escaped the lips of Marilyn Garbanza that we'll discuss further down that made the party more interesting than the appearance of any of Alicia's clients.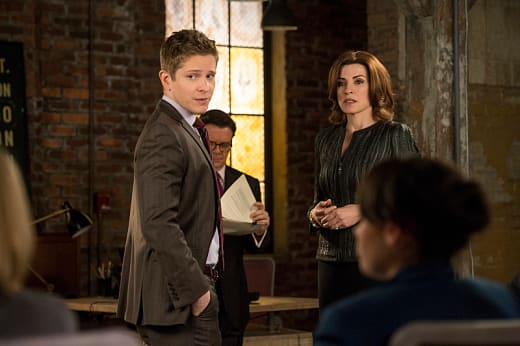 The crux of the episode centered around LG's attempt to get Alicia to sign her exit paperwork at the hand of Damian Boyle. In sending him they apparently thought they'd throw her off the mention of Matthew Ashbaugh. The good fellow left her the sum of $12 million in a will. 
LG and Florrick/Agos were each contesting a will which was done solely to give Will the opportunity to examine Alicia under oath. At the time they worked with Ashbaugh, they were in the middle of their affair and had passionately made love right after meeting with Ashbaugh. Alicia jokingly assured Will she had Ashbaugh wrapped around her finger and could make him do her bidding, i.e, he'd sign a will for her.
Will had obviously been waiting to get his moment with Alicia for some time, and was using the business with Ashbaugh to project his own feelings about her onto himself. Did she use him? Did she wrap Will around her finger only to later unceremoniously dump him because she was married? 
Will needs answers, but he wants answers that she won't provide. A part of him wants to believe it was all a farce so that the pain will go away. The pain won't go away. Alicia went away because she, too, was in pain. He still hasn't grasped that, if his fantasy interrogation is any indication. He's missed the part that she ran to get away from her feelings for him. 
Be that as it may, her testimony went more smoothly than he anticipated. At one point I thought Alicia was going to say Will was the person who had worked with her to manipulate Ashbaugh, but of course it was David Lee. Honestly, the historical record that Lee and Lyman are the only two who ever did anything wrong is starting to get a little ridiculous. Will and Diane are not squeaky clean, never having given orders to do things that were in the best interest of the firm but not their clients.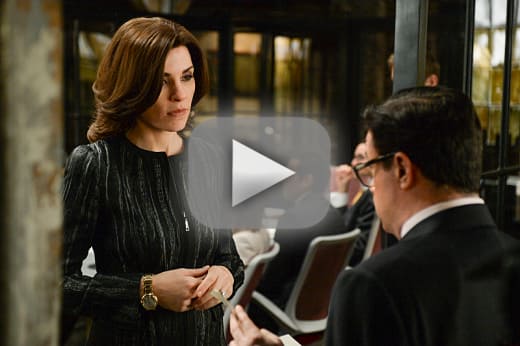 There seemed to be some resignation in both their voices when Will and Alicia spoke on the phone about the further wills discovered in Ashbaugh's safety deposit boxes. Their meeting on the stand was unpleasant, and it tore the scabs open on wounds that were starting to heal. They need to talk. It will likely take a long time to get there, but it needs to happen. We need to see it.
Kalinda got a little lovin' in after she attempted to best Damian at his game. He has a lot of people in his pockets after years of working with the mob, so he had a lady cop look after Kalinda. Luckily for Kalinda, she was hitting for her team and they ended up in bed together. From what I understand, we're going to see more of Jordana Spiro so Kalinda might be wooed from both sides of the spectrum for a little while.
Which leads us to the humdinger at the end of the hour. I'm pretty sure I've questioned at one point or another whether Marilyn might have been involved with Peter at some point, or if she was a little whackadoodle and making up her pregnancy. Both of those things are still on the table, but now I'm all for adding a fresh thought to the deck and just plain whacko is on my mind.
Every week Marilyn does something else that is entirely strange. Her pregnancy isn't proceeding at the same rate as other women, she has bizarre cravings and does weird things. She alters between being rude and childish and always has something to blame it on. Announcing that she's naming the male child she's carrying Peter to Alicia's mother sent her right out on the crazy train.
For someone who is supposed to be skilled in ethical behavior, you'd think she would know that would sound... unseemly. Eli blew a mouthful of goodies all over some poor party guests at the announcement and it didn't seem to phase Marilyn in the slightest. She was in her childish place, as if she wasn't in her right mind.
It seems like someone wants us to think the baby might be Peter's, but I think Peter would know if he slept with her, and he doesn't seem to know her or be fond of her in that way at all. Could we be in the middle of a stalker storyline? I have no idea, but I don't want to jump to conclusions about Peter and Marilyn because if they were together, then Peter has to go. The story of him and Alicia is dead in the water.
Other bits:
Alicia's comment to Cary about not working together felt a bit harsh. Of all the things Cary has done, that was the least malicious since they've partnered.
Was Clarke Hayden that rusty in the courtroom or was he embarrassed to cross-examine a prostitute? Either way, he came through and it was a fun point of the hour.
Enough Jackie already. What happened to her dementia? 
I'd really like to know what Diane is thinking about everything that has gone down. She lost the Supreme Court nomination and her name on the letterhead and is married. Where's her head?
What are your thoughts on Marilyn's explosive name dropping? What about Will and Alicia's courtroom drama? Did the 100th episode live up to your expectations? Hit the comments!
Carissa Pavlica is the managing editor and a staff writer and critic for TV Fanatic. She's a member of the Critic's Choice Association, enjoys mentoring writers, conversing with cats, and passionately discussing the nuances of television and film with anyone who will listen. Follow her on Twitter and email her here at TV Fanatic.