The Voice Winner Revealed, "Floored" by Outcome
Matt Richenthal at . Updated at .
America has a new Voice.
On last night's Season 5 finale, Tessanne Chin was crowned the champion over fellow finalists Jacquie Lee (second place) and Will Champlin (third), an achievement that followed Chin already realizing a dream when she sang a duet with Celine Dion.
"It hasn't sunk in yet!" Chin told EW of her victory. "I don't think it will ever sink in - I'm still floored at the outcome."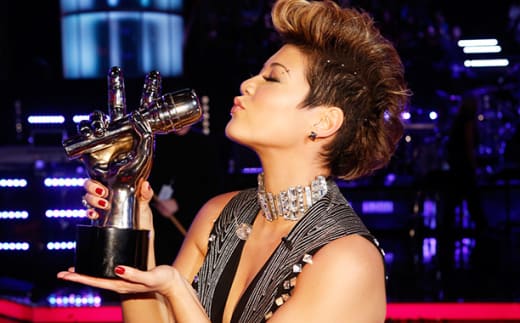 Chin added that she was clearly aware of all at stake on the finale, but she focused her energy on "getting up there and having a good time with friends," as opposed to being nervous or anxious.
But what about that song with Dion?
"Celine's just absolutely amazing and I look up to her so much," Chin said afterward. "I always have and she is even better in person."
Chin has already worked with Ryan Tedder on "Tumbling Down," the single she performed for the first time last night - and she says she cannot wait to continue down this same path.
"I'm excited to be able to make some amazing music and finally be able to make an album that I know I'm going to be proud of," she said.
As for coach Adam Levine? He sees a very bright future ahead for his charge.
"I believe that she was destined for success whether it was on The Voice or abroad. I knew that this was going to happen in some way, shape or form for her," said Levine. "Tessanne knows this just as much as anybody, this is only the beginning."
 
Matt Richenthal is the Editor in Chief of TV Fanatic. Follow him on Twitter and on Google+.