Yesterday, the TV Fanatic staff gathered and voted on the Best Comedy of 2013.
Now, various staff members have come together once again in the name of laughing out loud, answering a very simple question in the following year-end Round Table:
Who was the funniest performer of 2013? Check out answers now and then weigh in with your own...
Gabrielle Moss: I live for Eugene Mirman as Gene on Bob's Burgers.
Matt Richenthal: The only possible answer is Nick Offerman on Parks and Recreation. Please and thank you.
Kate Brooks: Aubrey Emmons, Modern Family. Also known as the sassiest child on TV when she plays Lily Tucker-Pritchett. She delivers lines perfectly and hysterically. I love her!
Dan Forcella: The best comedic performance of 2013 was Zachary Knighton's portrayal of Dave Rose on Happy Endings last spring. He took at somewhat bland character from season one and transformed him into one of the most hilarious on all of television by season three.
Jim Garner: While the new direction of Mike & Molly has been hit or miss, Melissa McCarthy has been hilarious as Molly.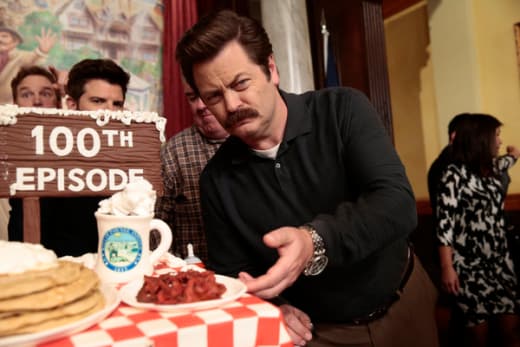 Leigh Raines: Ty Burrell always makes me smile as Phil Dunphy on Modern Family.
Steve Marsi: While New Girl is funnier as an ensemble comedy than the Zooey Deschanel project it set out to be (FOX could have had The Zooey Project and The Mindy Project running back to back), Zooey is still the glue that holds it together and the reason it works. So I nominate her!
Carissa Pavlica: I'll stick with my Goldbergs theme and say Wendi McLendon-Covey. She's doing a fantastic job as the mom and it's virtually impossible to recognize her from Reno 911 which shows her versatility.
YOUR turn, TV Fanatics: Who do you think gave the funniest performance of 2013?