The question of Skye's parents and history has become second only to learning why Coulson is alive.
Last week on Marvel's Agents of S.H.E.I.L.D., we got a large piece of the puzzle on the latter, so here it seemed only fitting that they pull the curtain back and show us more about Skye.
I was worried going into Agents of S.H.I.E.L.D. Season 1 Episode 12  that it would pale in comparison to last Tuesday's adventure. I've never been so glad to be proven wrong.
This week picked up where we left off, hitting all the right points along the way. Let's break it down...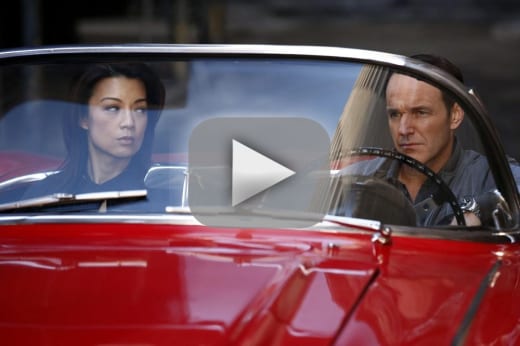 Melinda May – Chatter Box: Did anyone else expect May to become the talkative one when Coulson went into his funk? Me neither! It was a nice surprise to see that she was trying to get him talking and out of his gloom by filling in some of the chatting.
Coulson – Man of Honor: I'll be honest, between Phil telling Skye everything he knew about her history and his casual acceptance that Melinda and Grant know what they are doing, I have a total man crush on him right now. Coulson was all about keeping secrets until it bit him in the keister! Who doesn't like a man who is open and honest?
Skye – Child of SHIELD: I've got no idea where they are going with Skye's background. But it is finally getting very, very interesting! Of all of the elements that needed refining, Skye was at the top of my list and how her story has really bloomed! Her being an O-8-4 as a baby has unlimited potential!
Donny Gill – Blizzard: For those that wondered about Donny's icy finger drag at the end of the episode, in the Marvel universe he becomes "Blizzard." As Blizzard, he goes into a life of crime for a while and eventually tries to reform himself and become a "B Team" good guy. This is the second marvel hero (or villain) that they've introduced on the show, which means they are starting to mine the depths of the Marvel lore.
Ian Quinn – Centipede Alliance: The biggest shocker for me in the hour was Ian Quinn's message to Coulson that The Clairvoyant wanted him to tell Coulson hello. I knew Quinn was a dirt bag, but you could have knocked me over with a feather after he said that. I'm guessing all roads lead to Centipede now.
Overall, it was a great hour and I can't wait till February 4 when the show returns. In conclusion, I'm giving this episode 4.9 piece of repaired humanity for the bonding that Coulson and Skye did.
Which surprised you more? 
Jim G. is a TV Fanatic Staff Writer. Follow him on Twitter.