Agents of S.H.I.E.L.D. Review: Worthy of The Marvel Name
Jim Garner at . Updated at . Comments
Given that Agents of SHIELD finished out 2013 with a bit of a whimper, I was thrilled to see that 2014 started out with the show firing on all thrusters – and kicking in the afterburners!
As a huge Marvel fan, I've been one of those encouraging everyone to give the show a chance to find its rhythm. 
Agents of S.H.I.E.L.D. Season 1 Episode 11 rewarded our patience with an hour that truly made it worthy of the Marvel name.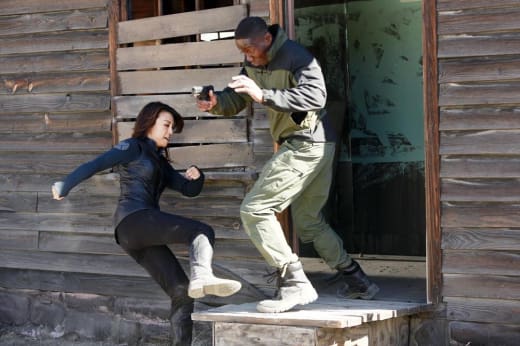 I won't beat around the bush. This was hands down the best episode of the series. All the pieces fit together so smoothly and the story flowed so effortlessly that I didn't want the hour to end. 
How could I after the bread crumb we got on why Coulson is alive, thanks to Raina helping him recover some lost memories? I know we saw Agent Hand took Raina away at the end, but I really hope we get more of her in the future.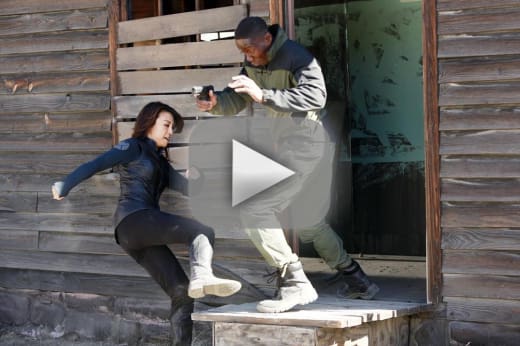 This was the Raina we first met and I loved that she was back. When she caught the cell phone after Po was fried, I nearly cheered. It's no secret that I didn't click with Po, and given how fast he was killed off, I guess I wasn't alone. 
Honestly, Raina is clearly a more interesting villain for Coulson and team to face off against. Where else would you get awesome interactions such as this?
Coulson: What is it with the flowers?
Raina: Who doesn't like flowers? I'm glad you noticed.
Back on the bus, from Simmons horribly trying to cover that it was Skye on the phone to Ward's creative use of open spaces to get answers, it was great to see the whole team doing what they do best. 
Even Skye seems to have found her niche on the plane. I totally fell for May's snippiness at wanting her off the plane. I actually felt as guilty as Ward looked when she came clean that she had been helping to get Skye out to where she works best.
Finally, I want to say I was surprised to see Mike Peterson alive, but when I saw J. August Richards name go past in the opening credits, it clued me in that we were going to be seeing him again. 
In conclusion, I'm giving this episode 4.9 frozen Mai Tai out of 5. Here is too many more episodes like this one. After all, Coulson's plane is a magical place. 
Who is the better Centipede Leader?
Jim G. is a TV Fanatic Staff Writer. Follow him on Twitter.