Almost Human had serious competition tonight, going up against both The Bachelor premiere and the BCS National Championship game.
In light of both of those, it's honestly a wonder Fox decided to run with a new episode. Though I guess the argument could be made that there isn't much overlap among the three audiences, but still. It's interesting. 
Almost Human Season 1 Episode 7 was a solid, stand-alone episode for the series. It focused on Dorian and actually made me forget about the out-of-sequence airing which has plagued the freshman drama.
One of the intriguing facets of the show is the question of what happens when the world's technology gets to the point where it's so easily used for crime. That was, not consequently, also one of the early draws to Fringe. 
Tonight centered on a rip-from-the-10-year-ago-headlines story of a police academy flunkie who targeted those who had rejected him by placing bomb collars around their necks and giving them tasks to complete in hopes that they might receive codes to deactivate their bombs. He also broadcasted their final moments on the Dark Net, an unmonitored Internet used specifically for the seedier side of online life. 
As viewers cheered him on, bad guy of the week Simon Lynch became more gleeful in his attempts to take the lives of those who'd wronged him.
Maybe his downfall was reading the comments? (That's a joke, you guys. I love your comments. Please feel free to leave them always and forever.)
The story was actually quite intriguing, but the writers killed a little bit of the drama by having Kennex and Dorian be successful at saving the second victim.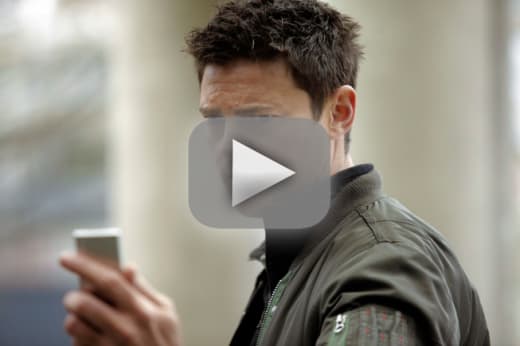 Don't get me wrong. I'm not cheering for the death of innocent TV characters. But if the final act of an episode involves the lead character becoming a potential victim, the suspense needs to be there in order for viewers to buy in, and that suspense was lessened by the fact that Kennex and Dorian had already diffused one of the bombs. 
There was never any chance that Kennex was going to die. Exactly how he would be saved was questionable, but he was never in any real danger because we'd already seen them save one person. 
Simon did help give us a little insight into John Kennex, though. 
He's a man who is wrestling with his demons. Somewhere inside his joking exterior is a man who lost a partner and a team while his girlfriend Anna led the attack which cost him those lives. And no one around him seems willing to let him live that down, least of all Paul, who waits for any and every opportunity to bring up Kennex's shortcomings.
One of Kennex perceived shortcomings, at least to Paul, is his relationship with Dorian. 
To Paul, Dorian has been nothing more than a machine. When power outages threaten to shut down the city and require electricity rationing, Dorian is lower on the list than the standard issue MX-83s. The incomplete charge causes Dorian's personality to go a little haywire, which made for some pretty funny moments.
When Kennex was in trouble, Dorian's one objective was to save his partner. There wasn't a risk-analysis or self-preservation like the MX-83s displayed. 
There was simply "my partner is in trouble and here's how I can help." Despite the risk to himself, Dorian scaled the building with a low battery warning and bought Kennex at least a few seconds to diffuse the bomb around his neck by insuring that the trigger in Simon Lynch's hand wouldn't go off.
As a reward he was finally given the one thing he wanted: a place of his own. Sort of.
Instead of charging with the other synthetics, Dorian's home is now Rudy's lab. It isn't John's trophy room, but it'll have to do. And it'll give us more of the quirky doctor, so that's a bonus.
What did you think of Almost Human Season 1 Episode 7? Did you find the suspense surrounding Kennex' capture believable? What do you hope to see from the series in the remaining episodes?
Should Dorian get a place of his own?
Miranda Wicker is a Staff Writer for TV Fanatic. Follow her on Twitter.