After Harry Connick, Jr. took the world by storm last night, it's time for Day 2 of the Austin auditions for American Idol! 
Between Boston and Day 1 in Austin, the judges handed out 46 golden tickets. How many more will they hand out tonight?
Let's find out...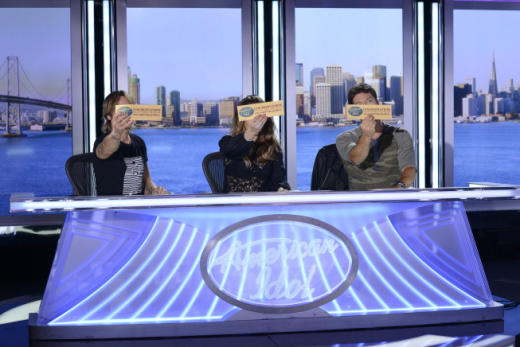 Jesse Roach is the first contestant of the day and she has to hang out in the chamber for an extra long time because the guys are being divas getting ready instead of joining The Diva at the table.
But finally they arrive. Jesse's story is an interesting one. A neighbor heard her playing and singing in her garage and signed her up for auditions, paid for her hotel room, and sent her to Austin. J.Lo and Keith love her voice and her soul and Harry says he wasn't distracted by her rasp. She gets the first golden ticket of the day.
Steven Curd is another guitar-playing singer and Anna Melvin is a fan of showing her midriff, and Miley Cyrus. Ryan Clark has a great voice. They all get golden tickets.
Quiandra Boston-Pearsall and Jamiah Malik are best friends, close enough to consider each other siblings. They vow to support each other should one make it and the other not. Jamiah impresses the judges with an acoustic rap that he wrote and it's pretty fantastic. Quiandra has an excellent voice. She gets a golden ticket. Jamiah's going home.
Louisiana girl Megan Miller is most excited to see Harry Connick, Jr. She's got a rasp in her voice and Harry's worried that at some point she's going to lose her ability to sing. Keith says something about the energy it takes to perform and the energy it takes for the audience to listen and then they give her a ticket.
Up next is a professional piano player, Grace Fields, gives Harry an "air high-five" which he doesn't return. Then she sings and he tells her she's not what they're looking for. This isn't the competition for her. 
Eric Wood, who works on an oil rig, gets a ticket to Hollywood. Maybe this will be his ticket off the rig. 
Spencer Lloyd gets a yes from J.Lo before he even sings because he's such a beautiful kid. Harry and Keith jokingly give him a no based on the fact that he's so good looking (and since we've seen 16-year-old Keith Urban...) He has a great quality to his voice that needs a little bit of growth. Jennifer gives him a real yes. Harry says he's going to bring something to the competition that needs to be there. Keith gives him a yes as well and he's out the door to his family, ticket in hand.
Marlon Lindsey is going to be the next American Idol. (Like everyone else auditioning.) He's been in the Army for the past 6 years so this is his first chance to try out. He sings Sam Cook's "A Change Is Gonna Come" and a change is coming for him! He's going to Hollywood.
Wasn't someone looking for who could play Obama in a movie? Idol found him! T.K. Hash looks like a young POTUS and has heard that a time or two. He has his impersonation ready and it's pretty spot-on. So are his vocals. He gets a golden ticket!
We're seeing a whole lot more of the chamber tonight and the various reactions of the contestants hanging out in there. There's tears, singing, arm-jiggling, lots of pit-sweat. Weird.
Tristan Langley teenage son of American Idol Season 1 third place contestant Nikki McKibben. He's "Second generation American Idol."
And now I feel really, really old. Harry says it wouldn't work for him without the history and gives him a no. Jennifer gives him a yes. Keith decides his fate and gives him a ticket. American Idol 2.0.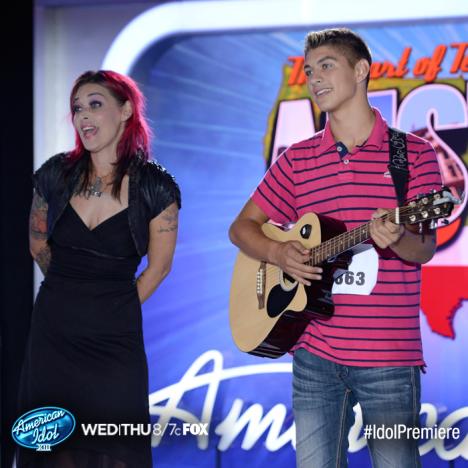 L.J. Hernandez knows a lot of fun facts about each of the judges and had a girlfriend break up with him over his quest to be a singer. He brings "props." Glow sticks. Which he rips out of his pockets and waves around during his bizarre audition. He gets super fast no votes and vows to be back next year.
Worship leader John Fox sings Bob Dylan's "To Make You Feel My Love." He's pretty awesome. Keith compliments him on being able to make his vocals the focus instead of his guitar and the other judges give him yes votes. He grabs a golden ticket.
And now we're in San Francisco. 
High school senior Rachel Rolleri's mom tells her daughter that she has to make it past the first round of auditions so she can meet Keith Urban. Rachel is as big a Keith fan as her mom. She flubs a few times and gives the judges a look each time she does it. They tell her not to do that anymore. Keith tells her she has a great voice and Harry tells her she has an understated confidence, which J. Lo tells her is important in life. And they give her a golden ticket.
Athena Williford tries out with Whitney Houston and Remi Wolf, a former Junior Olympian, sings a rendition of "Let's Get it On." MK Nobilette is here to show the world her really unique style and look. All three get tickets to Hollywood and Athena does the ugly cry.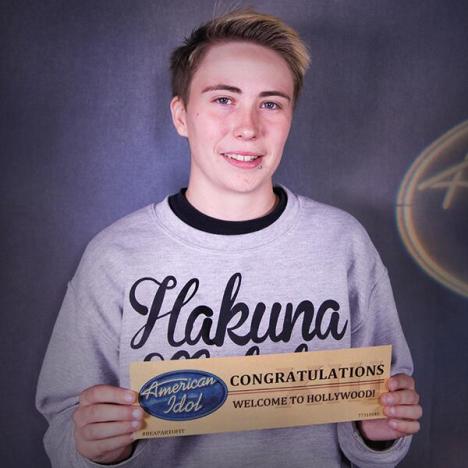 Emmanuel Zidor flew to San Francisco from Atlanta to audition and decided to come into the room singing. He scared J.Lo with his entrance. The judges ask him to sing another song and he's not quite as dynamic the second time as the first. Jennifer loved it and apparently so do Keith and Harry. They send him to Hollywood. 
J.Lo's kids, Max and Emme, are ADORABLE! And Harry Connick, Jr. playing with them is adorable too! SWOON!
Samuel Ramsey says he's going to do a "jazzy" rendition of his song and then just...doesn't sing jazz. At all. Harry calls him out on it and sends him home.
Caitlin Johnson is a 15 year old from Oregon who lives on a horse ranch. According to her intro, she's lived a life that's a cross between Carrie Underwood and Skyler Laine. She sings Christina Aguilera's version of an Etta James number and gets a no from Harry. J.Lo hopes for something and can't decide which way to vote. Keith gives her a yes. Caitlin starts to cry and then Jennifer gives her one more chance.
Ronald Reed wants to bring about world peace and all the love and joy on the planet by being on American Idol. Jennifer says he's a sweetheart but his vocals weren't there. Keith wanted his voice to be as big as his personality. "YES IT IS!" he shouts! He just keeps chanting "J.Lo. J.Lo." over and over and they send him on his merry way without a ticket.
26 year old David Luning decides to audition with an original. He gets about three lines in before Jennifer declares that she loves it. David says he's a "generally pretty happy dude" but his song was pretty broody. Keith wonders if he'd be crushed by the singers in the competition or if he'd sail to the top because no one else is like him. Jennifer gives him a yes. So do Keith and Harry. 
Selena and Sierra Moreno are a "dynamic duo" who aren't good at anything else except singing. Selena sings "Try" by Janis Joplin, and by "sing" I mean she just does silly vocal runs that don't make any sense. Sierra is better only by virtue of not oversinging. She keeps it simple, but she lacks confidence. Jennifer gives both girls a yes. The guys send Selena on and send Sierra home. I would have sent neither.
Season 12 contender Briana Oakley is back. She was cut last year and somehow they ended up keeping that crazy Zoanette Johnson. She does another amazing job and the judges send her back to Hollywood. Expect good things out of her.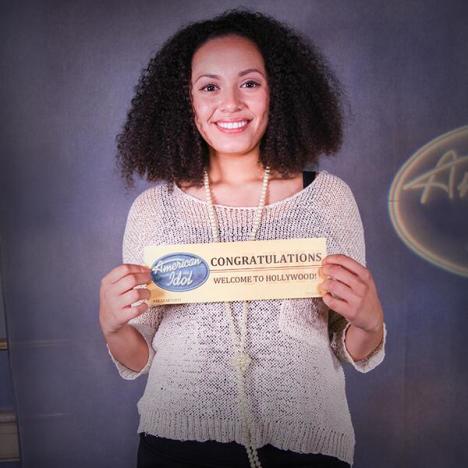 In a stunt I'm sure the judges have never seen before, Rico Perkins and Aranesa Turner both sing the golden ticket song from Willy Wonka and the Chocolate Factory. And they both get golden tickets.
"Daddy Guns" Gaddy Basil Foster works out. A lot. But he can't sing.
Adam Roth, a sound healer, sings "Hallelujah." I don't hate it. Not even a little bit. In fact, I actually quite like it and think I might have just had my chakras cleansed through my television. Hallelujah, indeed. Harry gives him a no. Jennifer gives him a yes. Keith gives him a golden ticket. He's going to Hollywood.
Day 2 of Austin and the San Francisco auditions saw the judges handing out another 33 golden tickets bringing the total contestants heading to Hollywood to 79 so far after two cities. 
While there were some questionable decisions in San Francisco, the fact that only 19 tickets came from the city by the Bay seem to indicate that perhaps the talent just wasn't there like it was in Boston and Austin so they had to work with who turned out. That's not to say there weren't any talented people there because there certainly was. It's nice to see Briana Oakley back and Remi Wolf seems pretty interesting. 
We're heading to Detroit next week for more auditions.
What did you think of the American Idol Austin and San Francisco auditions? Did the judges make good calls with their golden tickets? Should they have sent both of the Moreno sisters or did they make the right choice in only sending one? 
Miranda Wicker is a Staff Writer for TV Fanatic. Follow her on Twitter.