Archer Review: The A Team Meets Scarface
Robin Harry at .
This was another great episode of Archer (henceforth known as Archer: Vice), where the running jokes abounded and the characters were just as insane as they always are.
The change from spy agency to drug cartel has been almost seamless, as the direction of the show was summed up neatly by Sterling himself:
We are highly trained covert operatives with an extremely dangerous set of skills.  And since the government has unjustly accused us of treason, we are now forced to transfer those skills from espionage to criminal activity. Kinda like the A-Team. But we sell drugs.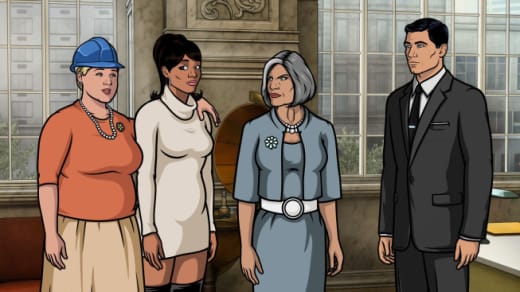 This highlights one of the reasons why this change works so well. The skills that they have as spies will actually serve just as well in the seedy drug world, leading to situations that are just as ridiculous and hilarious as the days at ISIS. 
For those who were wary of the change, Archer Season 5 Episode 2 set minds at ease, thanks to tons of callbacks, typical Archer humor and insane situations.
Now that ISIS has been shut down and their assets frozen, everyone except Malory has moved into Cheryl's mansion (where's Babou?!).  Malory's set up their first drug deal, which takes Archer, Lana and Pam to Miami. 
Unfortunately for Pam (or maybe fortunately, going by her reaction to it all), they smuggle the cocaine by making a body cast for Pam out of the white stuff. She becomes addicted almost immediately, with hilarious consequences. I couldn't stop laughing at her zipping around the restaurant.
We find out quickly that the ISIS days aren't gone and forgotten, as their contact in Miami to move the drugs is none other than Ramon, Archer's gay seduction-target-turned-friend, who we first met in Season 1's Honeypot. 
They meet in Ramon's restaurant's kitchen (that scene was a lovely nod to Scarface) to talk about their drug deal, which Ramon has set up with two other blasts from the past  - Charles and Rudy, the assassin couple from the same Archer Season 1 episode.
The whole thing was a set up, from the botched deal to the (stupid, stupid, stupid, stupid) fake shoot-out leaving Archer and friends with no cocaine and a million counterfeit dollars. I'm pretty sure that the fake shoot-out was just Ramon's plan for getting a kiss from Archer.
Meanwhile, back at the mansion, Ray tries in vain to teach Cheryl to sing, only to find out that she can sing after all... when people aren't watching her.  Malory quickly ropes her into a binding contract, becoming her manager. As fun as it is to see Cheryl be good at something, I could have stood for another few episodes watching her crash as a singer. That first do-re-mi scale she did at the beginning of the episode was hilarious!
Cyril has a new role: he is now the group's lawyer. Cyril is the only character that I've noticed a difference with this season. He shows a lot more confidence now than he did before. I don't know if it's because he's more comfortable as a lawyer, or if it's because he knows now how powerful his position is in the group. 
I hope this is a change that continues!
There you have it, folks. Archer: Vice. The A-Team meets Scarface. (Which reminds me - Hannibal Montana?!? They took two bad-ass characters -  John "Hannibal" Smith and Tony Montana - and made a portmanteau that sounds like a Disney character....both brilliant and shameful!).
And now for some more Archerness:

RUNNING JOKES:
- Oh, you were serious?
- Kinda feel like I should.
CLASSIC THEM:
- No surprise at all that Krieger has the entire house on video surveillance.
- Archer tends to be betrayed by people he thinks he can trust. Katya, Luke, Ramon...
- Poor Woodhouse - left to live in the pool.
CALLBACKS:
- In season 1, Ramon and Archer bonded over their overbearing mothers. They asked each other how their mothers were in this episode. Answer: Same as always.
- El rampageo!! (Rampage!!)
- Ray downs a bottle of Glengoole Blue.
IF YOU BLINKED YOU MISSED IT
- A portrait of Cheryl's brother on the wall at the mansion.