Sparks were flying on Beauty and the Beast Season 2 Episode 10 between Cat and Vincent.
They weren't the soft and romantic type that viewers may have become accustomed, but finally the separation of the two has paid off.
Not only is the story far more intriguing than it's been in months, there is a playfulness to the scenes with Cat and Vincent that we haven't seen in a long time and the missing procedural element is back -- but now it is conveniently tied into the beastly side of things, so viewers get the best of both worlds.
Vincent is out, a "free" man. He can walk the streets with a name and a face and be recognized. He can be a war hero on The Talk of all things, but he's still just as dangerous as ever, and more sexy than we've seen in a while. 
Yes, Tori is still in the picture, and it doesn't seem she's going anywhere any time soon. As a matter of fact, her entry into the story at this point helped bring to light the beginning of the mythology portion of our beasts, just as Special Agent Dana Landon's introduction tonight shed light onto the mythology of Cat's family history in tracking beasts.
Things just got a lot more interesting on many levels.
The collar around the skeleton of the beast hidden by Tori's father was just as important as the bones themselves. The bones held DNA closely related to Vincent's, meaning beasts predated Muirfield by about 10,000 years -- at least.
The gem and the collar mean someone may have been treating them as pets or some sort of possession. The gem has shown up at murder scenes over many years, even dating back to 1836 when Rebecca Reynolds, Cat's ancestor, was helping Scotland Yard in an investigation.
Both Cat and Vincent have been destined to find each other for much longer than they've ever known, even if Cat's mother had a hand in bringing Vincent into the fold.
We were treated to a lot of guest stars tonight, including two hunky gentlemen. The first was from The Client List and the second marks the second appearance from a Teen Wolf star in two weeks -- Peter Hale (Ian Stuart Bohen) playing Pete. Cat got to play with them in an undercover job to get the gem, where she ran into Vincent as he was searching for it as well.
Their meeting at the Russian embassy reminded me a bit of Mr. and Mrs. Smith. Cat and Vincent are still smoldering for each other and their interchanges were supercharged with an undercurrent of sexual chemistry tinged with anger. The way they taunted each other and played the game was very exciting to watch.
Tori is right to be concerned and Gabe should be happy he wasn't around to witness it. They'd be heartbroken.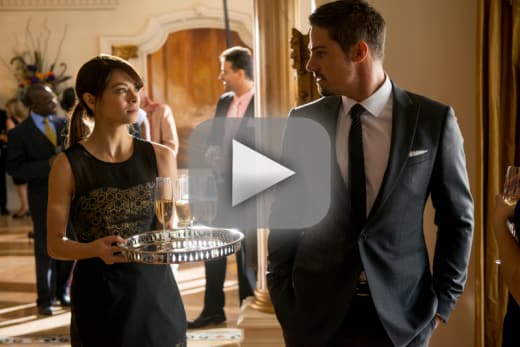 Tori is pushing too hard, and it will backfire. I don't see her as much more than a beastly match and sexual partner for Vincent. Gabe, on the other hand, is treating Cat exactly as she has always desired, and his ability to trust in her and not force his on agenda onto her case despite his desperate fear for her safety was a brilliant move that earned him a kiss.
No matter what you think about Gabe, if you didn't feel a little squee for him when he got that kiss, you must be dead inside. He was like the nerdy guy who finally gets his kiss in the John Hughes movie. I almost teared up in happiness for him. I fully expect his heart to be crushed, but can allow him his moments of joy and enjoy seeing someone get something they've wished for so dearly.
Cat didn't kiss Gabe because she was having feelings for him, but because she was energized after pulling off the undercover operation and being in action again. Even though Vincent was involved, she's doing what she loves and has someone who is giving her the elbow room to operate. 
Additionally, she can say she wants to forget about Vincent until she's blue in the face, but we all know she's wrong. There was fire burning between them at the embassy, and you don't get that where there lies apathy. Knowing her family has been tied to beasts for generations also gives her a reason to give herself a break. She can stop beating herself up over being so interested, because it's in her blood.
Now she can go to her dad and ask him what the hell has been going on and what else does she need to know about her family line and this gem? What does he know about the skeleton and how might it relate to Vincent? 
Also intriguing is what Vincent might do with his life now. As Sharon Osbourne pointed out on The Talk, the world is pretty much his oyster right now. He's a war hero, young, handsome and with his doctor's license. He could start practicing medicine again.
Or, he can be out there chasing down leads with the biggest names in the world, a la Nicholas Brody on Homeland, because everyone loves a hero and nobody suspects them of wrongdoing or even ruffling some feathers now and again. 
I'm just so excited about this latest development in the storytelling and I need to know if you are too. So tell me, and talk about it in the comments. And don't forget... if you need to catch up on any episodes, this is the best place to watch Beauty and the Beast online! 
Are you pleased with the direction of Beauty and the Beast?
Carissa Pavlica is the managing editor and a staff writer for TV Fanatic. Follow her on Twitter.