Brooklyn Nine-Nine Review: Nothing but the Truth
Robin Harry at . Updated at .
It's been a great week for Brooklyn Nine-Nine, as the sitcom took home two Golden Globes on Sunday.
Andy Samberg won for Best Actor in a Comedy or Musical and the show won Best Comedy/Musical.  Congratulations!!!
This week we got another solid, funny episode of Brooklyn Nine-Nine, as the series used the theme of "truth" to explore almost every relationship in the precinct. Brooklyn Nine-Nine Season 1 Episode 13 had a really great balance of heart and humor, and though it was predictable in some areas, I quite enjoyed it.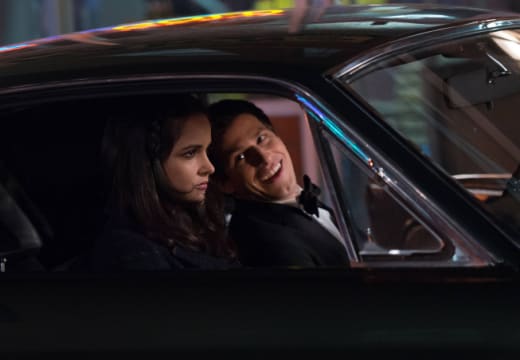 As we learned in the pilot, Jake Peralta and Amy Santiago had a bet going for who could make the most felony arrests in a year. If Jake, he would lose his car. But if he won, Amy would have to go on a date with him. 
Well, Jake won and they had to go on a date, which we kind of saw coming. Of the two possible outcomes, that was the one with the greatest comedic potential.
Also, the show has been very subtly hinting at mutual attraction between the two and this served as a great avenue to explore their romantic tension.
Jake pulled out all the stops to make the date as embarrassing as possible for Amy (oh my goodness, that terrible dress). He had a few rules for the date, but he laid out the most important one in a scene straight out of "A Walk To Remember.
Jake: No matter what happens, you're not allowed to fall in love with me.

Amy: That won't be a problem.
As Jake reveled in all his humiliating plans for Amy, a slightly-drugged out truth-talking Boyle adeptly pointed out that the only reason he's putting that much effort (and cash) into the bad date is because he actually likes Amy.
Part of me is a bit wary about ramping up the unresolved romantic tension between Jake and Amy so quickly.  Brooklyn Nine-Nine is still a new show and I was hoping for a bit of a slower burn between those two. That said, the chemistry between Andy Samberg and Melissa Fumero on the roof was undeniable and I do want to see where that goes.
Their interactions during the rest of the episode were great as well. Jake's mad dash for Holt's office throwing obstacles in Amy's way, Jake's celebration after winning the bet (everyone dancing in the background), the "just lost a bet" streamers at the back of Jake's car as they left for the date - all hilarious. 
The best was the children's choir, though - I just about fell off my chair when they started sing "Saaaantiago!"
MEANWHILE...
I could not stop laughing at the fact that Charles Boyle's Medal of Valor was upstaged by a horse named Sergeant Peanut Butter. Poor Boyle got another injury while being pushed to the background of the honorees picture. He increased his pain meds, which made him a bit uninhibited and prone to truth telling.
From insulting Gina's hair to admitting to fake text messages, everything that came out of Charles' mouth was golden.
Charles's truth telling made for some comedy, but it was so much better than just funny. Everything he said to everyone revealed something about those characters or about himself. He's usually a people-pleaser and acts as a doormat, but he's a lot wiser and confident than he lets on. Charles' truth is what got Terry out of hot water for not telling his wife he was back in the field. It's what made Jake realize that he actually liked Amy.
The most interesting result was between Rosa and Charles. He was able to tell that Rosa was avoiding him and why. Rosa was afraid that Charles was going to confess love to her and she didn't know what to do, since she felt indebted to him. When he set that record straight, telling her that he didn't know it was her and was doing his job, but that he was going to get her anyway... I almost applauded.
This episode of Brooklyn Nine-Nine was funny and heartfelt, which is a great combination to watch with these characters. I think it was one my favorites of the season so far. I totally enjoyed it.
Other notes:
Awkward Holt is a hilarious Holt. "Perhaps I should stop talking to your wife."
Hitchcock and Scully: WHY would Hitchcock think it's okay to strip?!