It was a big week in Salem, as Eric confessed his true feelings to Nicole, Sonny popped the question to Will and EJ and Abby lost the battle against their growing attraction once again.
In our first Days weekly round table, TV Fanatics Nick McHatton and Christine Orlando are joined by Kpatch and stickywicket - members of MyHourglass, a Days of Our Lives fan forum - to debate who's taking dirty pictures at the Horton cabin and where Eric's confession will lead for he and Nicole.
Don't forget to join in and add your answers to ours in the comments section below. 
------------------------------------------------------
Who do you think is recording EJ and Abby at the cabin?
Nick: It could be damn near anyone! Creepy bird watcher guy, a Stefano henchman, Nick Fallon. Stefano having evidence of EJ's affair for future blackmail purposes is always something he's ready and willing to do; he loves having all the cards and pulling the strings. The man is a master puppeteer and he may use this as blackmail to make sure EJ continues to stay quiet about Kristen. Stefano might be too obvious of a choice though, and it might not be Nick since this person followed Abby from the town square (even though that would be ridiculously soapy for Nick to come roaring back into town blackmail in hand).
Kpatch:  I think it's Chloe. Just kidding. (It reminded me of the time Chloe spied on Jennifer and Daniel.) Maybe it's Adrienne, one of your Salem busybodies. Or perhaps someone from TMZ. Ooh, maybe it's the birdwatcher Santa guy!
stickywicket: I would not put it past Sami; this is child's play compared to the things she has done in Salem. 
Christine: Maybe it's Anne looking for yet another way to embarrass Jennifer. On the upside, at least Anne will probably show it at a hospital function and not at a church wedding.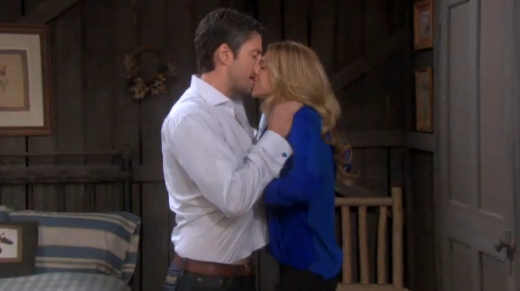 Assuming they are saved, how will Eric and Nicole deal with his confession that he loves her?
Nick: I'll preface this by saying I love Ericole (although I've come to really love Brady and Nicole too). I've been waiting over a year for something like this to happen, but there's still the pesky problem of Eric being a priest. They clearly have feelings for each other, but until Eric gets out of the priest collar they're pretty much doomed. Nicole might reciprocate the feelings next week, but ultimately it's up to Eric to choose: the church or Nicole.
Kpatch: That's a tough one. I'd like to see them embark on a relationship, but I think he still wants to be a priest so he'll be really torn. I hope she takes his confession to heart. 
stickywicket: Well when you are knocking on "death's door," confessions of the soul are always the way to go, but I have a feeling it will take a while to play out. They are treading a very fine line here and hopefully, if done right will result in a great outcome for both Eric and Nicole.
Christine: I'm waiting for them to wake up from their gas induced comas next week to find one of them with amnesia. Then they can pretend it never happened and drag this out even longer. But truly, I think once they are saved, Eric will be offered his priest collar back and then he'll take it and break Nicole's heart once again. 
Was it a mistake for Sonny to propose to Will?
Nick: Not at all, they're both ready to marry each other. It's just about Will getting past this idea of needing to clear away the baggage in his life in order to be the best husband he can be. Someone put it best on Twitter: there's not enough room in the Salem river for all of Will's family/baggage. That being said, I do like that Days didn't sweep Will's constant bouncing around between Lucas and Sami under the rug. It's really put marriage into perspective for him, and that's a really commendable decision. 
Kpatch: Yes, I think it was. They are still adjusting to their new non-traditional family. There's no rush to get married.
stickywicket: A mistake no, but the point counterpoint argument that ensued between them after was well acted and a refreshing change. Will and Sonny both gave good reasons as to why each felt the way they did and they still remained a couple….bonus!
Christine: From a fan perspective, I think that having just recast Will made this odd timing for a proposal. And although the reasons Will gave sounded valid. I wish he'd just said he wasn't ready. If he's waiting to be baggage free, it will never happen. 
What storyline do you wish would just go away?
Nick: I am so over Daniel and Jennifer. Fetch is never going to happen. I wish they would throw this storyline in the river with Nick. In an otherwise ridiculously great week on Days their boring chemistry and story was a complete downer for the ten or so minutes I had to endure of brooding eyes.
Kpatch: Oh, that's easy. Jordan. I can't get invested in her. I get no emotion from her character. Since I don't know what her secret is, I just don't care whether she keeps the secret or not. I liked Rafe with Kate. Can we have them back?
stickywicket: I would love to see Theresa get over this vendetta/ crush with Jennifer/ Daniel! I am still skeptical as to why she is acting the way she is! Kim and Shane are good people, let's tap into some of that Ms. Donovan! Would love to see Kim and Shane play a bigger role in her life on screen to guide her in the right direction.
Christine: I'm with Kpatch. Rafe and Kate were way more interesting. Jordan is boring and Sheryl is even worse. Can we ship the two of them back to Birmingham?
What was your favorite scene of the week?
Nick: It's the first Days Table and I'm already breaking the rules! For me it is a tie between Ericole and WilSon. I'm so happy to see Eric confess his feelings for Nicole after the two of them have been dancing around it for nearly a year, and I'm super excited to see how, or if, Days will bring them together. For WilSon, I'm probably going to get shredded for this, but I think Guy Wilson's nuWill has way more chemistry with Sonny. Those WilSon bed scenes and kisses were the hottest thing WilSon has ever done.
Kpatch: Can I choose more than one?
I liked the drama of Sami,

EJ

and Abby at the mansion.

The scene where Nicole, dressed only in a towel, found the doctor in Daniel's apartment. That was horrific.

And then there was the comic relief when Anne slipped and fell, but no one offered to help her.
stickywicket:  My favorite scene hands down was with Theresa and Caroline! Peggy McCay is brilliant and the scenes between Peggy and Jen are fun and heartwarming to watch, Peggy is a true gem! 
Christine:  It's funny because I wasn't waiting on the edge of my seat for it, (to be honest I kind of like Nicole and Daniel together) but Eric finally confessing his love to Nicole and then that kiss to her forehead really got to me. It was sweet and heartfelt and might make me an Ericole supporter yet. 
Your turn, TV Fanatics. Who do you think is taking dirty pictures of EJ and Abby?
C. Orlando is a TV Fanatic Staff Writer. Follow her on Twitter.