The Crawleys throw a house party on Downton Abbey Season 4 Episode 2, but there wasn't a greal deal of merriment when all is said and done.
Frankly, by the time the episode ended, it was difficult to think of much other than Anna. 
I didn't catch exactly why there was a party, nor how the guest list was put together. It was rather surprising that Lady Edith was allowed to invite her married cohort, Mr. Gregson. As they keep reminding viewers (literally, they say it -- a lot), things have changed since the war.
Edith had Gregson as a guest; a chap who grew up with the ladies was invited, Anthony Foley -- now Lord Gillingham -- who was chatting up Mary, making her wish for a) Matthew or b) the Mary who kicked sand in the face of life on a regular basis before her heart was softened by her love for Matthew; and Dame Nellie Melba was going to be singing for the guests. 
Dame Nellie's arrival (after the war) meant that all of the household staff -- kitchen included! -- would also be able to enjoy the festivities. Imagine that.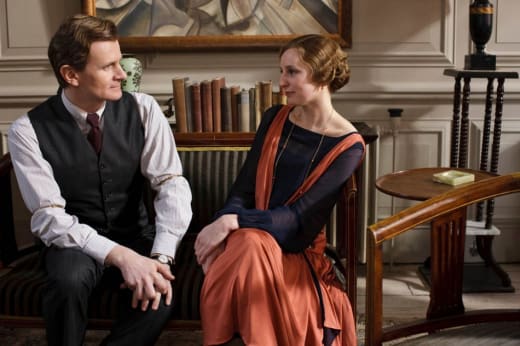 As much as things have changed since the war, it's still bloody difficult to understand who everyone is when they start with that tricky, posh naming convention wherein the staff takes the name of their (I don't know what you call them, really) master and then people like Lord Gillingham's valet, Mr. Green, is sometimes also referred to as Gillingham. That happened in the Highlands on Downton Abbey Season 3 and I was equally as confused. 
Tom Branson made the mistake of calling a Duchess "Your Grace," which outside of that particular situation would have been proper, but at the party was incorrect. By the end of the social engagement, he felt so out of sorts he had confided in Edna Braithwaite and she may have slipped into his room after the festivities. Poor Tom. He told Robert he felt as if he had let everyone down and didn't belong. You and me both, Tom.
Mary and Isobel were both struggling with what must have been the first big social situation for the both since Matthew's death. We missed out on six months of their lives, but given their behavior, that's the only logical conclusion. By the end of the evening Isobel was in far better spirits, and Mary? We'll have to wait and see, but it appears she'll be seeing a bit more of Gillingham. She (literally) got back up on that horse.
Edith's Gregson managed to win the favor, however so slight, of Robert by evening's end by winning back his poker losses to a card sharp named Sampson who could have been cheating. The whole card playing scenario was a bit confusing, what they were betting and losing and what the IOUs consisted of -- whether money or something else. In any event, he'll not be persona non grata any longer. Maybe he'll just be a bit of a nuisance.
With all of the visiting servants, it was a jolly mood both downstairs as well as upstairs. Everyone was playing a raucous game of cards downstairs and Mrs. Patmore had a bit of a panic attack. Daisy took it to be a heart attack, but thankfully Dr. Clarkson was on hand to ensure she was alright.
Because Green had earlier flirted with Anna, I think Bates was a bit put out that Anna was so enjoying the game of cards that he had thrown together. While they were all laughing and enjoying themselves (the nerve!), Mrs. Patmore was falling ill and Bates was very angry; something he took out on Anna. It was a bit embarrassing and unnecessary, the way Bates spoke to Anna. After everything she's been through with him, he should know by now that she has eyes for no other man.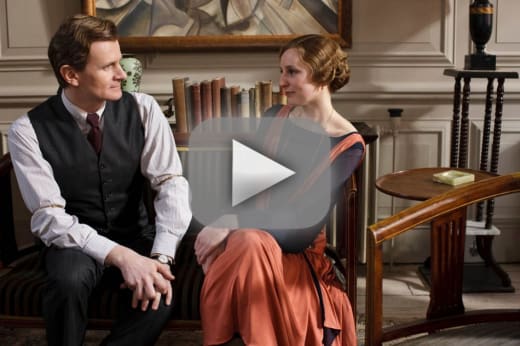 It was only a short while later when the entire household was gathered around listening to Dame Nellie sing that Anna fell ill. While she went to get a cure for her headache, she was confronted by Green and brutally raped. There's no need to go into details here, because you watched it. 
There was an irony to the situation, in that Bates and everyone else were upstairs, enjoying themselves with the noise and merriment -- Bates even took a moment to note to Mrs. Hughes that Anna must have fallen asleep downstairs -- while Anna was screaming for help, going unheard.
It was almost a mirror for the Mrs. Patmore incident that Bates had earlier chastised Anna. Instead of enjoying himself, he should have been looking after his wife. If at that second when he wondered if she had fallen asleep he had gone to find her, things could have turned out differently.
I'm not blaming the incident on Bates. I'm not even saying that he could have stopped it. I'm merely pointing out how incredibly eerie it was that those two things happened under such similar circumstances. 
Anna made her decision to keep what happened from anyone but Mrs. Hughes, and her reasoning is sound, even after the war. In Downton a woman may have had a better chance of being taken seriously, but given Cora's willingness to believe someone like Edna Braithwaite over Mrs. Hughes, the upstairs folks don't always see things clearly.
While Bates is a convicted felon and could be held accountable for whatever he chose to do to Green, I'd like to think after what he's been through he might think first and act second. He did tell Anna he learned quite a bit in prison. Then again, his anger at her could be part of the reason she had a headache, because she felt as if she let him down. Neither one of them were thinking clearly by the end of the night.
This development wasn't covered up very well on the Internet, and I knew it was on the way. The part that shocked me the most was how it happened so closely after Mrs. Patmore's panic attack was almost overlooked during a gleeful celebration. There is a lesson to be learned in that, but I don't know what it is. 
Anna's flimsy excuse about falling down and spilling wine was obviously a cover-up. The likelihood is their marriage will suffer another tremendous blow for a good portion of the remainder of the season. If Lord Gillingham is going to be courting Mary, it may come to a head the next time valet Green makes an appearance. Anna could barely hold it together while the creep made his goodbyes. How will she manage the next time he says hello?
I don't know how realistic the amount of heartbreak that occurs at Downton is to the times, but I have to wonder why such travesties are chosen for stories over other types of drama. There have been four deaths of note, William, Lavinia, Sybil and Matthew, the murder of Vera Bates, and the felony conviction of John Bates. Matthew was paralyzed in the war prior to his death. Thomas was beaten silly and Anna was raped.
I realize this is a soap opera, but there is so much to explore with the historical aspect, that I wonder if perhaps keeping the setting as a upstairs/downstairs scenario is curtailing what could be an otherwise larger story to draw upon.
Do you think Anna should have told Bates what happened?
Carissa Pavlica is the managing editor and a staff writer for TV Fanatic. She's a member of the Broadcast Television Journalists Association (BTJA), enjoys mentoring writers, wine, and passionately discussing the nuances of television. Follow her on Twitter and email her here at TV Fanatic.