For the second consecutive week, the Robertsons did battle with technology.
On Duck Dynasty Season 5 Episode 3, Si was all about putting a video camera on his hunting helmet.
On Duck Dynasty Season 5 Episode 4, meanwhile, Willie was concerned because the employees were playing corn hold instead of getting an order ready for the morning.
This meant the men had to work extra hard through the night, which became a problem when a smoke detector wouldn't stop blaring. It was up to Jase to end the incessant beeping.
Willie helped with the task and got angry when Jase broke the thing, while Si was all about making weapons (a flip flop and a Big League Chew?!?) and Phil told his grandkids a ghost story during a sleepover.
It was all about how he nearly murdered a vomit-laden Uncle Si and let's just say we doubt it helped anyone sleep.
We end the hour with Willie waking up to eyebrows having been drawn on him, something he doesn't find remotely funny. But he comes around a bit after some breakfast and some prayer and says it's important to find humor in various situations. We agree.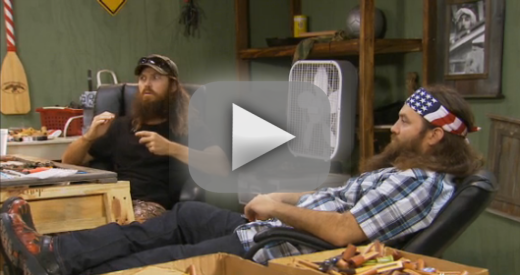 Matt Richenthal is the Editor in Chief of TV Fanatic. Follow him on Twitter and on Google+.