Hart of Dixie Review: All In
Kate Brooks at . Updated at .
On Hart of Dixie Season 3 Episode 11, Lavon lost the merger.
And, just as it looked as if Bluebell would become Fillmore, the glorious Lt. Governor swooped in to save the day!
Other than Bluebell being saved, the best part of the night was when we finally bid goodbye to Lynly Hayes. We can all rejoice now that she is gone, yet there was a flip side to this good side: it looks like Shelby may be out of here as well.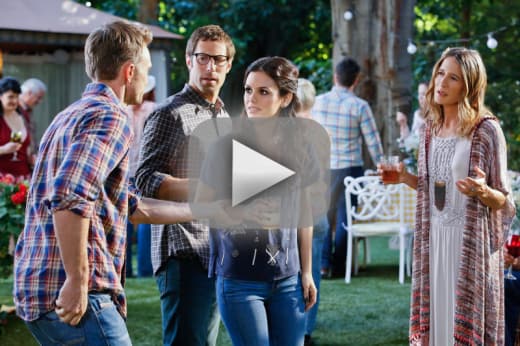 Now that Lynly is gone, I wonder: to whom will I direct all of my disdain? There always has to be that one character that you just utterly dislike. Who is going to be next? Guess we will have to see.
On Hart of Dixie Season 2 Episode 10, Brick and Shelby reconciled and I was so happy. My joy quickly faded, though, when Shelby left with her baby daddy. That's right, baby daddy. She wasn't artificially inseminated like she claimed, instead she got knocked up by the Lt. Governor.
Does anyone else want Shelby to come running back to Brick again? They're so adorable and compatible.
You know who else is compatible? Joel and Zoe. I regret nothing about this and every episode I fall more in love with them even though I know I shouldn't.
Eventually, Zoe will break Joel's heart and he will have to move back to New York. I won't like it when this happens. Joel is smart, funny, adorable, and not to mention, he treats Zoe like a queen.
What was Zoe's relationship like with Wade? They were always arguing, fighting about something new and, come on, Wade cheated on Zoe.
Am I the only one who remembers this? Am I the only one who finds it hard to want them back together so quickly?
I understand that things change and people should be forgiven... but Zoe moved onto Joel and he is awesome. I see on Twitter and Tumblr all of this Joel hate and I don't understand it. He treats our main character with so much love and compassion, why does he need to leave?
Why do we find ourselves disliking Joel? He treats Zoe better than Wade did. I think he's very good for her.
Elsewhere, we were lead to believe that Lavon lost the battle to keep Bluebell and I was shocked but also excited. For a second there, I thought the writers were going to take us down a new path but with a quick twist, Bluebell remains.
Overall, I enjoyed the episode. Even though it was a bit more dramatic and bit less comedic, it worked. Also, Harley Junior came back and he is so adorable; he needs to make more appearances.
As far as this season goes, as Joel put it tonight: I'm all in too.
What shocked you most about the episode?