How I Met Your Mother Review: On to the Next One

Chris O'Hara at . Updated at .
Unlike what Jay-Z says, moving on to the next one for the mother was not so easy.
The focus shifted away from the show's regulars on How I Met Your Mother Season 9 Episode 16, as Episode 200 turned the spotlight on the title character's life in the years proceeding her meeting Ted.
From the opening scene, where Kelly arrived late from the wrong MacLaren's, we were treated to an episode full of Ted's future bride. The significance of the episode to come was reinforced when the opening credits montage featured pictures of her and her friends rather than Ted and the gang.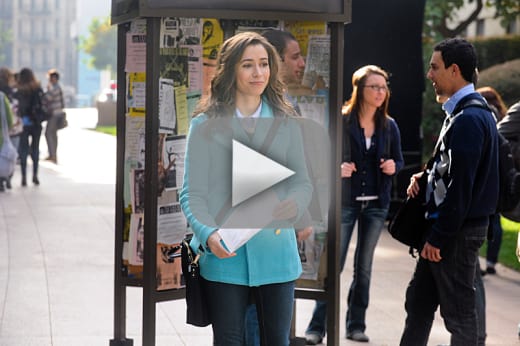 On the monumental night when Marshall and Lily got engaged and Ted met Robin, the mother experienced a completely different array of emotions.
The moment she mentioned the last two gifts Max had gotten her on her birthday, I noted how I liked the cut of this guy's jib. Sadly, we never meet him. A phone call from his number told the mother her boyfriend had died.
The episode then really started pulling on your heart strings when she returned home from Max's funeral and opened his present to find the ukulele. Roughly two years had passed when we next saw her, still coping with Max's death.
Emerging in a stunning red dress, I was surprised to hear Kelly say it was St. Patrick's Day. The meaning behind wearing red on such occasion has several widely held meanings, but for fans of How I Met Your Mother, there is only one thing the color yellow represents. 
After a good talk with Mitch, who was short on clothes but full of good advice, we got to see how the mother and Cindy (Rachel Bilson) met. At first I thought her invitation to Cindy to move in was a tad impulsive. After dwelling on it a bit, I ended up liking how she couldn't help but be a nice person. Then, as she explained to Cindy how she had given up on love, you could see why she and Ted were right for each other.
As Ted walked into the classroom, the music crescendoed just perfectly as the mother took note of the young professor before her. Ted is also old fashioned and a big believer in "the one." He luckily found a woman who would laugh at his jokes.
Before Ted would get his chance, the mother met two other men who would impact her life. Darren we know about, but Louis certainly seemed like a good guy. Unfortunately, during their breakfast together, we saw that while he may have been a catch, he wasn't a match.
Fate took over from there, landing the mother in Louis's beach house the night before the wedding. His surprise proposal wasn't much to speak of, but the scene that followed certainly was. The mother asking Max if it was okay to move on was so touching, especially having heard the way she described their relationship earlier.
It's silly, but it's like the first lottery ticket I ever bought was, kaboom, jackpot! And I'm pretty sure I'm not going to win again. Not like that anyway.

The Mother
If you weren't reaching for tissues after that scene, I'm sure a number of eyes were being dried after her rendition of La Vie en Rose. If it is available, it will quickly top download lists everywhere. 
Did anyone else think Ted's tone and language, while describing that first time he heard her sing, had a sort of final tone to it? While some may have been left wondering if that meant the mother is no longer alive, Ted returned to his room to find Barney missing.
This brought the show back to the wedding at hand, but one of the best aspects of the episode were all the instances where the mother crossed paths with the gang in past episodes like No Tomorrow and The Time Travelers.
I also have to note how happy Curtis was to hand over the room key to the mother, knowing well that Ted was next door. That was a nice little touch in what was certainly one of the best episodes in the show's celebrated run.