How I Met Your Mother Review: Slappetite for Destruction

Chris O'Hara at . Updated at .
Slappy New Year everyone!
The holidays have come and gone, but Marshall had one last gift to give Barney beneath the willow tree. How I Met Your Mother Season 9 Episode 14 revisited one of the most beloved pastimes in the show's nine season run:
Marshall slapping Barney.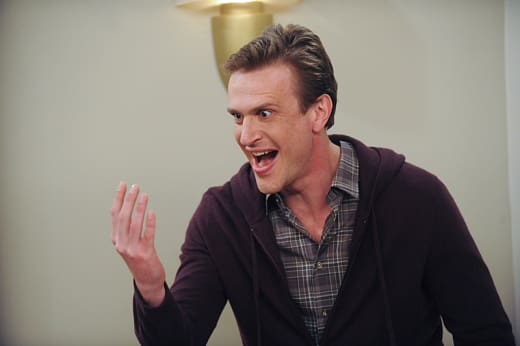 As we flashed back several to several weeks ago, the tables were turned on Barney as, for once, he was made to sit through a fantastically fake story. Marshall's meetings with the three masters of slap were highlighted by a great montage of him getting slapped by a number of Barney's exes.
As his hand began to glow with the disdain of Barney's girlfriends past, Marshall realized that with his great new power came responsibility... and also some unforeseen downside.
Look at this thing! I'll never have cold pizza again! I'll never have cold pizza again...

Marshall
Of the three "masters" Marshall visited, Ted as The Calligrapher was my favorite. Marshall took numerous shots at his best friend, but Ted also got in on the action, calling out his single status.
Barney tried to appeal to Robin's love for him, but even she would not dare step in the way of the inevitable. So Barney took it like a man and was rewarded with a song from Boyz II Men and another montage, this time full of Marshall's slaps over the years.
With 17 hours to go until the wedding, there was almost no reference to the big finale, which leads to to think and hope, we might be in store for some more great How I Met Your Mother traditions to be revisited once more before the season's end. The question is, which ones?
Marshall still has one slap left. Will Barney be sporting matching Marshall hand prints when it comes time to say "I do?"
Visit our How I Met Your Mother quotes section and sound off now.