How I Met Your Mother Review: Unbroken

Chris O'Hara at . Updated at .
And the truth shall set you free!
What an episode we were treated to tonight.
Barney's face was still red from Marshall's latest slap, as I'm sure there were some fans who were still feeling the sting of disappointment from the last installment.
It was widely debated, but I can't imagine there were many fans who were left disappointed after How I Met Your Mother Season 9 Episode 15.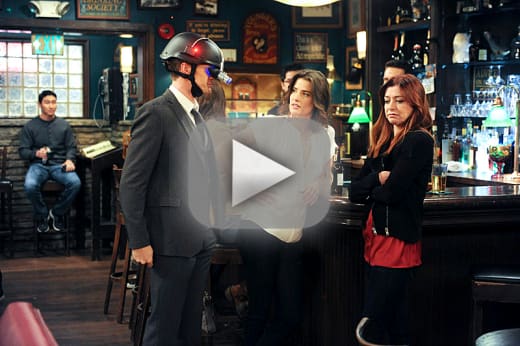 To start things off, we saw Ted in bed with an extremely pregnant mother. Their chemistry was adorable and everything I have come to expect from the future couple.
As they finally decided it was time to get to the hospital, I loved the quick shot of the pink pacifier left sitting on the nightstand. It was a great little hint that this was the birth of the son they were heading off to.
By the end of the half hour, it was revealed they were indeed on the way to  Luke's birth with their daughter Penny in tow. All the speculation was finally laid to rest as we learned the names of both their children. Thank you, C&C Mother Factory, for that.
With the pause still in place, Marshall shared some embarrassing souvenirs he picked up while visiting Ted's childhood home. The Totally Awesome Ted mug should definitely be offered on CBS' online store. After the final item was revealed, the attention moved from Ted and his balloon friend to the very intoxicated Barney.
Ted's review of the various levels of Barney's drunkenness over the years was one of my favorite montages of the season.
Speaking like Jabba the Hutt was pretty epic, but Barney's Richard Dawson drunk was an entirely different level of amazing. If you've never seen the late, great, former host of Family Feud in action, you must do so. You will quickly see why he was a perfect fit for someone Barney would channel while in a drunken fugue state.
Before Ted and Robin could take advantage of Barney's truth serum drunk, they first had to make sure this newest shade of blacked out was legit.
Ted: Uh Barney who's taller, me or you?
Barney: You're taller, I wear lifts in all my shoes.
With its validity established, the fun began. Ted and Robin took turns asking questions and the truth came out about Barney and Ted's mom. We also learned/confirmed how Robin's family is loaded.
The most epic truth, though, was Ted finally getting to the bottom of what Barney actually does for a living. As Barney explained how he ended up in his job and ultimately revealed to his boss how he had been corroborating with the authorities, I couldn't help but sense a little nod to Meet Joe Black.
At one point during that sequence, Barney's hair actually resembled Brad Pitt's in the film. Anyone else get that? Either way, it was a pretty good twist. Robin had already gone to bed, but I really liked when Barney explained to Ted just how happy he was.
For a long time, deep down I felt sort of, broken? But I don't feel that way anymore. Robin, along with the idea that vengeance will soon be mine, has made me 100% awesome.

Barney
Robin went to bed content, having gotten what she wanted to know out of Barney - but as we saw in the final scene, Trevor Hudson looked to be quite a bear of a ring bearer. Barney wasn't necessarily lying, though. He certainly could have worked with his mother during some stint with a circus or while at the M.I.T.
Robin will no doubt have her own claws out when she sees Trevor walk down that aisle, but Marshall saw an entirely different kind of anger in Lily's eyes when the two finally un-paused their truce.
Initially the situation took on a funny tone, with Marshall trying to prolong sex with Lily. He even gave us one of the night's best references when he recalled the Unscrambled Spice Channel Glitch of '93.
With just hours to go until the wedding, it looked like Lily and Marshall still had some serious reconciling still to do. I assumed it was Ranjit Lily called to come pick her up. Then Ted and the mother exited the inn moments later as far as the scene went, but years into the future as we well know.
I just thought it a strange shot cinematographically. Maybe I am entering the over analyzing drunk stage. After all, I thought this was one of the best episodes of the season and it could not have come at a better time.
What did you other mother minions think?