Intelligence Review: Love is Just Geography

Carla Day at . Updated at .
Intelligence didn't waste any time in answers questions about Amelia.
In Intelligence Season 1 Episode 2, we saw the happy couple before her deployment deep undercover and again in the present day. Five years may have passed, but their love for each other was just geography. Even though Amelia had explosive material in her stomach, Gabriel continued to believe in his wife.
"It's just geography," indeed!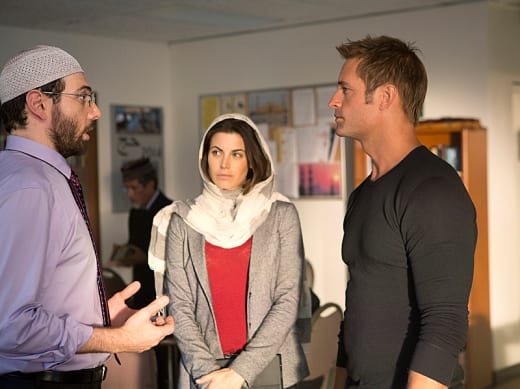 I was shocked  to see the Amelia storyline take such an abrupt and drastic turn in the second episode. Intelligence showed it's willing to take huge, unexpected steps. And, just when it was starting to make sense,... boom! It's not at all what it appeared. Love it!
The idea of undetectable explosive material that can be consumed is frightening. In this case, the technology was designed for the good of society and then twisted to do evil. If (or when!) such a bombing material is developed, the world will be a much more dangerous place. 
In this case, an American military contractor was responsible for the deaths of the perpetrators' family. To get revenge, they targeted the US military and the contractor with the undetectable bomb. The situation became even more complicated when Gabriel traced one of the men to the Mumbai attack that Amelia participated in.
The bombing was almost secondary to the emotional turmoil Amelia's involvement created for the team. Gabriel has effectively used the chip to help the nation, but Amelia's his weakness. He put protecting his wife above everything else, including saving his own life.
He couldn't accept the possibility that Amelia had been turned or that Riley and Lillian put his safety above his wife's. Ultimately, Gabriel put the lives of innocents ahead of his anger and continued to help the team.
When Gabriel came face to face with Amelia, it was utterly heartbreaking. They wanted to protect and save each other at the potential expense of their own lives. If nothing else, Gabriel was able to say goodbye in a way to Amelia. Will he be able to forgive Riley?
In another unexpected twist, it was Amelia that provided the boy at the Mosque with the clue about the targeted hospital. She wanted him to show up there. Did she believe that he could stop the bombing? Whatever her specific motivation, she hadn't been turned. 
Lillian's continually flip-flopped on her stance over Amelia. While she tells Gabriel that he needs to let Amelia go and that his wife's been turned, her actions tell a much different story. She traded for information on Amelia, she revealed to Riley she didn't believe Amelia turned, and lastly she followed up on the clue to get verification of Amelia's allegiance.
What does Lillian know that she's keeping secret? Gabriel will likely be furious when he finds out!
What now? Amelia is presumably dead. Or, is she? I hope she's still alive and that that explosion was a way to fake her death and get her out of the horrible situation she found herself in. I didn't see her blow up, did you? No body ... no death, right?
Is Amelia dead?
Carla Day is a staff writer for TV Fanatic. Follow her on Twitter and on Google+.