As great as Raylan's tussle with Monroe was, and as awesome it was to watch Boyd continue to struggle, the best thing about Justified Season 5 Episode 3 was seeing how Daryl Crowe Jr. worked his way into a power position in Kentucky so quickly.
I'll be honest: I've never been the biggest Michael Rapaport fan, albeit that is mostly due to how obnoxious he used to be during MTV's Rock N' Jock basketball games and not his extensive work as a comedic and dramatic actor.
Through three episodes of Justified Season 5, though, I absolutely love him. I've been hanging onto every word he's said as Daryl, waiting to see what move the character would make next.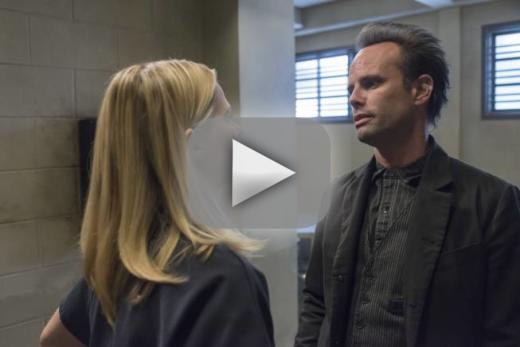 After arriving at Audrey's last week, and then throughout a majority of "Good Intentions," he seemed to be waiting to figure out how he was going to make the most out of cousin Dewey's favorable situation.
Whether it was planting the seed in Dewey's mind that something wasn't working correctly at his establishment, quietly demanding his cuz hand over 5 K to get him out of town or figuring out that Dewey's right hand man was skimming off the top the whole time, Daryl was a joy to watch at work.
Beating the dude's face in and then giving all the power that remained to Dewey was a thing of beauty. Not only is he taking control of the entire thing Dewey has going on, but Daryl is letting his cousin think that's it's still his show to run.
Boyd Crowder, meanwhile, is likely in more trouble than the poor guy to whom he sold Audrey's. Not because Paxton wants him dead, and not because a cop has been coming after him, but because without Ava in his life he has continued to make worse and worse decisions.
Beating the heck out of Paxton was bad, continuing to work with people that are screwing him over isn't the smartest either, but the worst decision he made yet was not tending to Ava's needs.
She was right, it's all been about him. Would it kill the guy to go to her side in prison one time and start with, are you doing okay? I'm going to get you out of here no matter what I have to do! Without her, he's a shell of himself, and without her, he'll likely never have room to grow as a man.
While Crowes and Crowders were off going crazy, Raylan Givens was busy getting busy, knocking out thugs with bats, keeping piles of gold safe and protecting Wynn Duffy of all people.
Wynn: So you're protecting me from a situation you created?
Oh Wynn, you are always so astute. Monroe didn't have a chance to kill Wynn though, so I'd say it was a success.
Justified Season 5 Episode 3 continued the show's great early start to 2014, but what did you think of it? What were you favorite moments? What didn't you like?
And how will Boyd's revelation come back to get Johnny Crowder?
Dan Forcella is a TV Fanatic Staff Writer. Follow him on Twitter.