The jury finds Psych guilty of making what's old brand new again and pulling out all the stops to do it.
We sentence them to nothing less than 7 more episodes - and preferably a season or two - of the same.
This installment clearly exemplifies why Season 8 is a gift to fans, and why this show has been so successful over the past number of years. It has no problem reaching back and saying "Let's do better," and has no qualms about making fun of themselves as they do it.
That's exactly why Psych Season 8 Episode 3 is an instant classic in an already colorful cannon.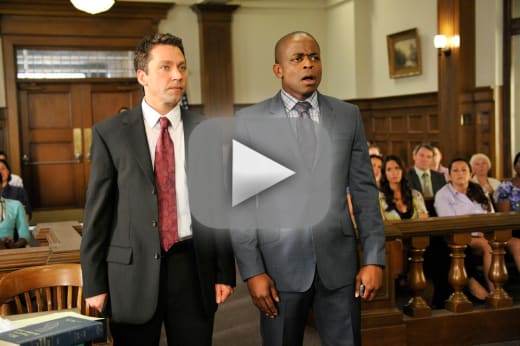 But I know what you're probably still trying to wrap you head around is all the guest stars you saw reprising roles and assuming new ones. Which is why I took the liberty of running them all down for you, including where else in the Psych universe you can find them!
Michael Weston reprises his role as the lovable Adam Hornstock from the original Cloudy, Chance of...Murder (Season 1, Episode 12).
Alan Ruck, while he plays Rueben Leonard here, was originally Phil Stubbins, the man holding up the bank in Gus Walks Into a Bank (Season 3, Episode 8).
Janet Varney, who played "Bitchiest Banana" award winner Mindy Howland in Murder...Murder...Anyone?...Bueller (Season 3, Episode 2) returned as Connie Camp, co-host of Sun Up Santa Barbara.
Ed Lover, first playing himself in Last Night Gus (Psych Season 6 Episode 2), took on the role of Bailiff this time around.
Ray Wise, who made his first appearance as Father Wesley in both The Devil is In the Details...and the Upstairs Bedroom (Psych Season 4, Episode 2) and Dual Spires (Psych Season 5, Episode 12), the seasoned Psych alum returned as Judge Horace Leland.
Ralph Macchio played prosecutor Phelps here, but when we saw him last he was playing a down and out police academy instructor in We'd Like to Thank the Academy (Psych Season 5 Episode 13).
Lindsey Sloane once played a bachelorette looking for love on television in Shawn and the Real Girl (Psych Season 6, Episode 12), here plays embattled school teacher Sandra Panitch.
Carlos Jacott both writer and actor extraordinaire, has penned several Psych episodes and in been front of the camera at least once before, as Terrance, the manager of a suicide hotline in 9 Lives (Psych Season 1 Episode 5). Here he portrayed returned to play Morty Camp, co-host of Sun Up Santa Barbara and killer.
Katharine Isabelle, who was Sigrid in Black and Tan, A Crime of Fashion (Season 2 Episode 12) assumes the role of Priscilla Morganstern. Surprisingly, Priscilla's last name was Osterman in the original.
Dana Ashbrook of Twin Peaks fame and who also starred in Psych's homage to the '90's cult favorite with Dual Spires (Psych Season 5, Episode 12), portrays deceased playboy Jackson Hale.
Kurt Fuller, who has been a regular for the past several seasons, teleported back to the show's earlier days before he was the creepy coroner we all know and love today!
Phew! Now that we've gotten that out of the way, we can talk about how much awesome was wrapped up in this 42 minute gift of an episode!
Having watched the original in anticipation of this episode, it certainly was a lot more involved and exciting than the "Cloudy" of season 1. It presents an interesting conundrum in that it's hard to tell whether Psych approached the remake to make the episode of itself better or as a way of reintegrating elements of a show or movies from the past - in this case a past installment - into a new creation.
In my opinion it has to be a little bit of both. They borrowed dialog from its successor directly, but then added new elements, like the introduction of Woody before he was the SBPD Coroner, the use of Sun Up Santa Barabara and its co-hosts and the revision of the case to include an additional death during the investigation and pin the crime on a different killer.
Then again, they went to great pains to remind you several times that the episode was meant to take place in 2006, even down to Lassiter's comb-over. But as I remarked when they attempted to do something similar in Psych Season 7 Episode 5, also known as 100 Clues, it can be a hard sell given how much they've all grown up - as people and as actors - in the past seven seasons.
On a professional and personal level these individuals have grown together in ways that simply can't be undone. This fact fundamentally changes the tone of the episode as much as they try to go back to those earlier years. In 2006/2007 the actors were still trying to get to know each other, fast forward to now and it's obvious how comfortable they are in their characters and with each other.
Prime example is the Shules we got in this episode. When Maggie Lawson and James Roday interacted with each other in the original, there was a certain level of distance between the two and their characters. At that time, there was only one scene where Shawn flirted with Juliet, and Roday and Lawson weren't out in public as a couple yet.
You get to this installment, and Shawn's not only pulling Juliet aside and making predictions about a future we've already seen come true, he does it multiple times and at least once in a crowded courtroom in front of both Lassiter and his father!
The way they look at each other in their scenes, you can really tell how much things between them have really changed on and off screen. There is no substitute or replacement or remake for that.
It's all of these things that make this Andy Berman remake - with a Todd Harthan assist - so brilliant. In a way, the episode allowed us to engage in a little nostalgia while still getting in all the laughs and creative elements that make this show what it is. On the other hand, it's also a stark reminder of truly how far things have some in eight seasons, which is almost enough to blow your mind!
Did I mention how awesome it was to get Woody in on the remake action? Or how awesome it was to get Shawn and Gus in a trampoline park? This installment weaved bits and pieces of interpersonal gold - see Henry and Shawn's hallway exchange, Henry bringing a less than year old Shawn to court - with random nuggets like Shawn and Gus' Sun Up Santa Barbara appearance.
It's amazing to see how much a world has opened up when you have to go back and reconstruct it. There are so many more possibilities in the Psych universe now than their were back in season 1, and Psych took advantage of every possible one!
So only one question remains: which "Cloudy" do you like better?
C. Charles is a TV Fanatic Staff Writer. Follow her on Twitter.